The Monitoring the Future teen drug use survey is out, the "CRomnibus" bill also killed highway drug use surveys, Rep. Steve Cohen (D-TN) wants better information on police killings, a damning report is released in Mexico, and more. Let's get to it: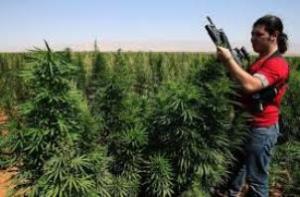 Marijuana Policy
Drug Use Survey Finds Teen Marijuana Use Declining Even as States Legalize. The annual Monitoring the Future survey of teen habits is out today, and it finds that legalization has not sparked an increase in teen pot smoking. The survey found that 24% of eighth, 10th, and 12th graders reported past use marijuana last, down from 26% the year before. And among 12th graders, the number who reported daily use also declined from 6.5% last year to 5.8% this year. There's much more to the survey; click the survey link to see it.
Medical Marijuana
Iowans Organize to Push for More Effective Medical Marijuana Law. The legislature this year passed a bill allowing for the use of low-THC cannabis oil to treat people with epilepsy, but that's not good enough for a new group, Iowans 4 Medical Cannabis. The group today announced it had formed to push legislators to make it possible to produce and dispense medical marijuana.
Driving
Omnibus Spending Bill Cut Funds for NHTSA Roadside Drug Use Surveys. The $1.1 trillion spending bill that has gotten so much attention over its marijuana provisions also bars the National Highway Traffic Safety Administration (NHTSA) from using funds to complete its "National Roadside Survey." It was a voluntary survey that only collected data from people willing to participate, but came under congressional criticism after a Texas TV station aired a program about a Fort Worth checkpoint where police ordered motorists off the road at random to collect samples.
Law Enforcement
Federal Bill Filed to Increase Reporting of Deadly Force by Police. Rep. Steve Cohen (D-TN) has filed HR 5866, which would "require the Attorney General to issue rules pertaining to the collection and compilation of data on the use of deadly force by law enforcement officers." The bill next was not available at press time. The bill has five cosponsors -- all Democrats -- and has been referred to the House Judiciary Committee.
Drug Testing
WorkForce West Virginia Drug Testing Doesn't Find Many Dopers. In its annual report to the legislature, WorkForce West Virginia, the state's employment services program, reported that it had subjected 1,205 people to drug testing upon their seeking tuition reimbursement for employment training programs. Only 1% of them failed. No word on the cost of drug testing all those people.
International
Mexican Federal Police Accused of Collaborating With Local Cops in Case of Missing Student Teachers. In an article published over the weekend, the respected Mexican political weekly Proceso reported that federal police worked together with Iguala police in the September attack on teachers' college students that left 43 missing and presumed dead and which has sparked protests across the country. Proceso also reported that federal police likely tortured key witnesses whose testimony was critical in the federal attorney general's investigation of the case. "We have information that proves the federal government knew what was happening in the moment it was happening, and participated in it," Anabel Hernández, the lead reporter for the Proceso piece, said in an interview. "The government has tried to hide this information." There's much more at the link.
Armed Civilians Block Western Mexico Highways Seeking Crackdown on Cartels, But… Hundreds of armed men blocked highways around nine cities in the Western state of Michoacan over the weekend as a means of pressuring the government to crack down on the Knights Templar cartel. They unfurled banners calling for the arrest of cartel leaders. But at least some of the armed men were identified as members of Los Viagras, a group of gunmen who had once served as the Knights Templar's armed wing and who are now trying to displace them from the drug trade in the state.
Canadian Federal Government Loses Again in Bid to Block Home Medical Marijuana Cultivation. Health Canada earlier this year issued new medical marijuana rules that prohibited home growing and shifted production to commercial operations, but it has so far been blocked by the courts from implementing them, and now it has been blocked again. Patients won an injunction earlier this year to allow them to continue growing their own. Health Canada appealed that decision, but the Federal Court of Appeal has now upheld the injunction.
Druze Leader Walid Jumblatt Calls Again for Legal Hash in Lebanon. Veteran Lebanese power-broker Walid Jumblatt, leader of the Druze community, has renewed his call for legal hash production. "It's time to allow hash to be grown and to overturn arrest warrants against people sought for doing so," wrote in Arabic on his Twitter feed. He expanded his comments in an interview with Al-Jadeed TV. "Never in my life have I smoked marijuana, but I support growing cannabis for medical use and to improve the living conditions of farmers in north Lebanon and the Bekaa Valley. Let's legalize cannabis and regulate its cultivation."