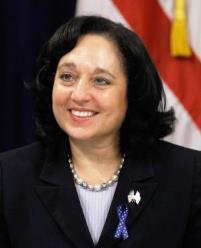 An amendment to the food bill that would allow universities and state agriculture departments to do research on hemp has been approved by conference committee negotiators and is set to become law.
A solution to the legal marijuana industry's banking woes is coming soon, Attorney General Holder suggested Thursday. But the devil is in the details.
DEA head Michele Leonhart didn't like what President Obama had to say about marijuana recently. But we don't like what she had to say either.
The Colorado Supreme Court will take up an important medical marijuana employment rights case, Connecticut selects marijuana producers, Massachusetts gets ready to announce who gets dispensaries, California localities keep moving to restrict cultivation, and more.
CBS News now joins the ranks of polling organizations reporting majority support for marijuana legalization. That's a first for the CBS News Poll.
The year's first drug war fatalities come from Puerto Rico, where two are dead after a confrontation during a drug investigation at a housing complex.
A Louisiana man is dead over what looks like a case of pot smoking in a car, and in a bizarre incident, two Oklahoma cops were killed when their cars collided chasing a drug suspect, who himself had died in a separate crash as he fled moments earlier.
Two cops go down for providing info to drug dealers, a DARE officer who ripped off the program gets a slap on the wrist, a Philly narc entangled with a snitch gets entangled with lies, and another prison guard gets popped.
Bills are popping at state houses across the land, pot politics continues hot and heavy, world leaders have harsh words for prohibition at Davos, and much, much more.
Florida's medical marijuana initiative will go to the voters in November, the DEA administrator is being both jeered and cheered for her criticism of President Obama's remarks on marijuana, the Supreme Court makes it harder to punish drug dealers for deaths related to their wares, and much more.
The hemp amendment gets included in the farm bill, Colorado's Supreme Court will review medical marijuana patients' employment rights, we have a couple of drug war horror stories, Mexico's security apparatus is joining forces with anti-cartel vigilantes, and Saudi Arabia's premarital drug testing program isn't working, and more.
Superbowl-linked banners chiding the NFL on marijuana policy go up, drug testing of students, workers, and welfare recipients is in the news, a federal sentencing reform bill picks up support, Guatemalan peasants pick up rocks and sticks to chase off eradicators, and more.
Permission to Reprint:
This issue of Drug War Chronicle is licensed under a modified
Creative Commons Attribution license
. Articles of a purely educational nature in Drug War Chronicle appear courtesy of DRCNet Foundation, unless otherwise noted.