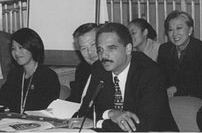 What role will marijuana play in the presidential election campaign? Look to Colorado.
A US 6th Circuit Court of Appeals decision saying police do not need a warrant to track people through their cell phones has broad implications. The ACLU is on the case.
StoptheDrugWar.org is pleased to announce our first teleconference, this one featuring representatives of the three state campaigns to legalize and regulate marijuana this November, and other exciting speakers.
The Colorado marijuana legalization initiatives continues to hold a nine-point lead in polls, but hasn't yet broken 50%.
Six weeks out from election day, the Washington marijuana legalization initiative is showing the best polling numbers yet.
Now, here's a shocker: All the former heads of the DEA want Attorney General Holder to speak out against the marijuana legalization initiatives.
Is the world's longest-running insurgency coming to an end? The Colombian government and the leftist guerrillas of the FARC have announced their first peace talks in a decade, but that's just the first step.
Drug reformers won't find the Democratic platform's positions on drug policy very inspiring.
No DEA raids or federal threat letters to report this week, but the battles over medical marijuana continue on many fronts.
An Alabama man faced with deputies coming to take him in on drug charges shot himself instead last Sunday night. That's the 47th drug war death of the year.
A Louisiana cop gets strung out in a hurry, a Florida cop is has car problems, a Kentucky state trooper has perv problems, and one member of a rogue New Jersey drug squad heads to prison.
Permission to Reprint:
This issue of Drug War Chronicle is licensed under a modified
Creative Commons Attribution license
. Articles of a purely educational nature in Drug War Chronicle appear courtesy of DRCNet Foundation, unless otherwise noted.