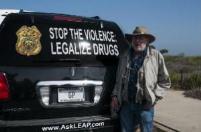 The Caravan for Peace led by Mexican poet Javier Sicilia is making waves as it heads across the country from California to Washington, DC. It has now generated more than 2,600 news articles.
We review "Drugs, Insecurity, and Failed States: The Problems of Prohibition," a new book from the very establishment International Institute for Strategic Studies.
Marijuana legalization initiatives in Colorado and Washington state picked up regional NAACP endorsements this week as the most recent polls show them both leading, but by no means comfortably. Oregon's initiative also gained the civil rights group's support, earlier this month.
The battle of Los Angeles continues, Arizona prosecutors don't like their medical marijuana law, and a bill is pre-filed in Kentucky. There's also lots more going on.
A new Public Policy Polling survey has the Massachusetts medical marijuana initiative making a strong showing, well above 50%.
Arkansas will be the first southern state where voters will have a chance to approve medical marijuana at the polls. An initiative there has qualified for the November ballot, state officials said Monday.
A bill designed to reduce overdose deaths by preventing the prosecution on drug charges of victims or people who seek emergency aid for them has passed the California legislature and awaits the governor's signature.
The city council in Springfield, Missouri reluctantly passed a marijuana decriminalization ordinance to avoid a citizen vote, but has plans to amend it.
A medical marijuana bill has been pre-filed in Kentucky.
A 21-year-old black man killed Wednesday by Alabama narcs is the 44th person to die in US domestic drug law enforcement operations so far this year.
There's something funny going on in Georgia, the DEA is investigating missing drug evidence in West Virginia, more prison guards get in a trouble, and an Alabama cop gets caught with sticky fingers. Just another week of drug-related law enforcement corruption.
Permission to Reprint:
This issue of Drug War Chronicle is licensed under a modified
Creative Commons Attribution license
. Articles of a purely educational nature in Drug War Chronicle appear courtesy of DRCNet Foundation, unless otherwise noted.