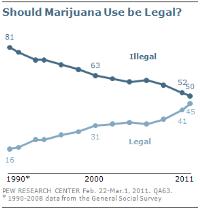 Is the Office of the Pardon Attorney, which recommends to the president who should win pardons or commutations, doing its job? The case of Clarence Aaron suggests it is not, and advocates are crying foul.
Two states are already set to vote on marijuana legalization in November, but initiative campaigns are still underway in four others, and it looks like at least one more state will come on board.
A new Rasmussen poll has national support for marijuana legalization and regulation at 56%, up significantly from a poll just two months ago. It's in line with most other recent national polls.
ProCon.org is a set of in-depth web sites presenting information and views from on current issues, several with relevance to drug policy. The Chronicle is currently running a series of info items from ProCon.org -- this one from medicalmarijuana.procon.org -- and we encourage you to check it out.
After Cameron Douglas got caught with heroin and Suboxone in federal prison, he got hammered with an additional 4 1/2 years. That harsh sentence has sparked an effort not only to overturn that sentence, but also to highlight the lack of drug treatment for addicted prisoners.
The Rhode Island governor has finally opened the door to compassion centers, a medical marijuana initiative campaign is getting underway in North Dakota, people are going to federal prison in Montana, and the battles continue in California.
US backing for and involvement in Honduras' war against drug trafficking is under increasing scrutiny after a DEA-involved raid that left four innocent people dead.
The Secret Service Colombia prostitution scandal has now ensnared at least two DEA agents in Cartagena. An investigation is proceeding.
Oklahoma Gov. Mary Fallin (R) has signed a bill that requires welfare applicants to be screened for drug use and drug tested for "reasonable cause." If they test positive, they lose their benefits.
A New Jersey marijuana decriminalization bill has passed its first hurdle, advancing out of the Assembly Judiciary Committee.
Philadelphia pays for police misbehavior, more cops get caught pilfering the evidence, one gets caught helping a heroin dealer, and another goes down hard for helping drug traffickers.
Events and quotes of note from this week's drug policy events of years past.
Permission to Reprint:
This issue of Drug War Chronicle is licensed under a modified
Creative Commons Attribution license
. Articles of a purely educational nature in Drug War Chronicle appear courtesy of DRCNet Foundation, unless otherwise noted.