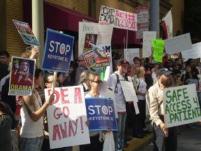 The fight to stop the drug war has entered its possibly most critical time to date, a time of major challenges but also unprecedented opportunities. We need your help today to decide whether StoptheDrugWar.org can enter this moment at full strength.
The Obama administration's increasingly hostile approach to medical marijuana distribution in California brought out protestors by the hundreds as the president went to San Francisco for a fundraiser.
It looks like Canada's Conservative government is finally going to get the ugly crime bill it has long wanted. That will mean mandatory minimums for growing as few as six marijuana plants.
A Florida federal district court judge has issued a temporary restraining order blocking Florida's welfare drug testing program.
Senate Republicans have blocked an amendment that would have passed Sen. Jim Webb's National Criminal Justice Commission Act, warning hyperbolically that it would violate states' rights.
A pair of Bay area state legislators are blasting the federal government for its California medical marijuana crackdown and saying they could craft a legislative fix if the Justice Department cooperates.
There could be a California initiative to bring statewide regulation to medical marijuana next year, organizers said Tuesday.
Colombia's president says the world should legalize marijuana, but don't look for his country to lead the way.
Somebody attacked Mexican army troops in Monterrey with a car last week, and that's just the tip of the iceberg in the ongoing wave of prohibition-related violence in Mexico.
A Pittsburgh-area man has become the third person to die from swallowing drugs during a bust in recent weeks and the 41st to die so far this year in US domestic drug enforcement operations.
A Texas DA gets greedy, and so do a California narc, a California prison worker, a Washington state evidence clerk, and a Washington, DC, police officer.
Every two years drug policy reformers from across the United States and around the world come to the International Drug Policy Reform Conference to listen, learn, network and strategize together for change. This year the conference is in Los Angeles, November 2-5, and StoptheDrugWar.org is a partner.
Permission to Reprint:
This issue of Drug War Chronicle is licensed under a modified
Creative Commons Attribution license
. Articles of a purely educational nature in Drug War Chronicle appear courtesy of DRCNet Foundation, unless otherwise noted.