Hundreds of angry medical marijuana patients and supporters gathered in San Francisco's South of Market Tuesday to greet President Obama as he appeared at a $5,000 a head fundraiser at the W Hotel. They were joined by hundreds of other protestors, mainly Occupy San Francisco members and environmentalists upset with the Keystone pipeline.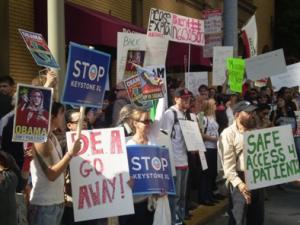 The president never saw the demonstrators -- he entered the building through a back entrance a block away from where protestors had gathered -- but boisterous chants of "DEA, Go Away!" and "Whose State? Our State! Whose Medicine? Our medicine!" echoed through the streets as police watched impassively.
It was the second straight day of medical marijuana protests aimed at the president. He got similar treatment Monday in Los Angeles.
The California medical marijuana community is upset with the president over what it sees as a multi-pronged attack on medical marijuana production and distribution by agencies of the federal government (sometimes in cahoots with recalcitrant local officials). Despite Obama's campaign pledges and the Department of Justice's October 2009 memo directing federal prosecutors to back off from medical marijuana businesses operating in compliance with state law, the pace of DEA raids has only accelerated since he took office in January 2009.
It's not just the DEA. The Department of the Treasury has been going after financial institutions that do business with the medical marijuana industry, forcing banks to submit to onerous record-keeping of their dealings and persuading some of them to drop their medical marijuana customers. Similarly, the IRS has joined the attack, refusing to allow dispensaries to deduct standard business expenses and hitting them with whopping past due tax bills.
Most recently, the four US Attorneys who cover California held a much ballyhooed press conference in Sacramento announcing that they were going after what they described as an industry out of control. They announced a campaign aimed at dispensary and grow operations landlords, sending out a wave of letters threatening property owners with asset forfeiture and even stiff criminal charges if they don't throw out their clients.
But while the feds say they are targeting people who abuse the system for profit, they have recently gone after some of the most respected, regulated and compliant operations in the state. Steve De Angelo's
Harborside Health Center
in Oakland is the biggest target of the IRS and was recently handed a $2 million tax bill after its expenses were disallowed; Lynette Shaw's
Marin Alliance for Medical Marijuana
is the longest-licensed dispensary in the state and enjoys impeccable relations with local officials, but its landlord was hit with a threat letter; and Matt Cohen's
Northstone Organics Cooperative
is the first licensed grow -- with every plant tagged -- under Mendocino County's cutting edge regulatory scheme, but was raided by the DEA earlier this month.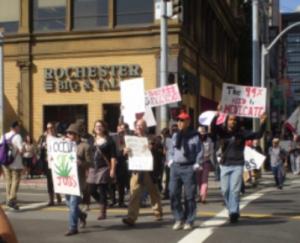 The effects of the renewed federal campaign of raids and intimidation couldn't be any clearer than the message that now greets visitors to Northstone's web page. "We are closed due to a federal raid on our farm," the message reads. "The entire crop was eradicated. We are closed until further notice. We will be sending out an e-letter informing memberships of what they can do as well as upcoming protests. We apologize for the inconvenience."
"Contrary to DOJ claims that they are targeting abusive profiteers, their list of targets includes some of the most respected and best regulated facilities in the state," said
California NORML
director Dale Gieringer.
Federal prosecutors are also targeting a trio of San Francisco dispensaries for being within a thousand feet of a school or playground, citing a federal drug-free school zone statute that enhances penalties for drug crimes committed within that forbidden zone. But California law allows dispensaries within 600 feet of schools and playgrounds.
In the case of the two Mission area dispensaries within a thousand feet of a school, the dispensaries operated there before the school arrived, and the school has made it known that it has no problems with them. In the case of the dispensary located near a playground, advocates point out that several bars and sex clubs nearby are in closer proximity to the kids.
"The DOJ's complaints represent a frivolous and cynical attack on land use decisions that properly belong to local government," said Gieringer. "This is a blatant example of federal government over-regulation run amok."
"It feels a little Kafkaesque," said medical marijuana and legalization proponent state Rep. Tom Ammiano (D-San Francisco) at a press conference preceding the protest. "We've been sandbagged by US Attorneys acting like thugs. I almost expect a drone to come down on a dispensary in Fresno one of these days," he said, barely cracking a smile.
Ammiano wants a meeting with Department of Justice officials on the issue, he said. "Why don't they lean on the banks for the foreclosures, instead of medical marijuana?" he asked. "I'll be damned if I know what Justice, IRS, and the rest are thinking right now."
Lynette Shaw, whose Marin Alliance dispensary is being threatened, called out the president. "After we helped put Obama in office, I thought we were in the clear," she said. "Obama, you have the power to issue an executive order and stop this," she challenged.
"The US Attorneys said they were going after the criminals, but that's not true," said Harborside's DeAngelo. "Northstone Organics, the Marin Alliance, and Harborside are all 100% compliant. The targeting by US Attorneys suggests they either need to learn how to aim or to learn how to tell the truth," he said.
It's not just about patients and dispensaries, but also about jobs and the economy, said several speakers. "If the federal government closes down the dispensaries, thousands of hard-working Californians stand to lose their jobs," said United Food and Commercial Workers Local 5 Cannabis Division Coordinator Mike Witemeyer, whose union has organized dispensary workers. "We stand with the patients."
"With the federal budget on empty, the economy in disarray, our prisons overflowing, and prohibition-related violence raging across the border, it's an outrageous misuse of federal resources to wage war on medical marijuana," said California NORML's Gieringer. "Federal anti-drug bureaucrats are afraid because the dispensaries are proving that it's possible for marijuana to become a safe, legal, tax-paying industry and so expose their own last-century policies as bankrupt and obsolete."
It's unclear what the Obama administration thinks it is gaining with its ever more hostile policies toward medical marijuana production and distribution in California. What is clear is that it is alienating many people in California who voted for Obama in 2008.