An amendment that would have created a national criminal justice commission to study wide-ranging reforms in the US criminal justice system was blocked last Thursday after most Senate Republicans voted against it, saying it would encroach on states' rights.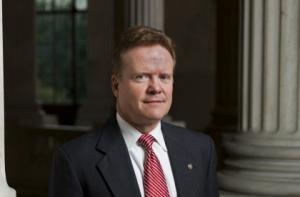 The bill, S. 306, the
National Criminal Justice Commission Act
, was introduced by Sen. Jim Webb (D-VA) and has 28 cosponsors. It would set up a commission to review all areas of the US criminal justice system, including localities, states, and the federal government. Its goals are to reduce crime and violence, reduce recidivism, improve cost-effectiveness, and ensure the interests of justice.
When he reintroduced the bill in February,
Webb called the US criminal justice system "broken,"
citing a whopping 1200% in imprisoned drug offenders since 1980, America's role as the world's number one jailer, the large number of mentally ill people imprisoned, and "haphazard and often nonexistent" post-prison re-entry programs.
In voting down an amendment that would have moved the bill forward, Senate Republicans had virtually nothing to say about the state of the criminal justice system in the US. Instead, they criticized the commission bill as an attack on states' rights.
"We are absolutely ignoring the Constitution if we do this," warned Oklahoma arch-conservative Sen. Tom Coburn (R). "We have no role to involve ourselves in the criminal court system or the penal system in my state or any other state."
Fellow conservative Sen. Kay Bailey Hutchinson (R-TX) echoed Coburn. "This is the most massive encroachment on states' rights I have ever seen in this body," she exclaimed.
Sen. Webb argued in vain that his proposed $5 million commission was only designed to gather advice and make recommendations, not force states to act. "This is not an encroachment; it actually convenes the best minds to get recommendations," he said.
But few of the Republicans were listening.
The amendment failed 57-43
, three votes short of the 60 needed to pass. All Democratic senators and four Republicans voted in favor of the commission. Efforts continue to pass S. 306.