by Bernd Debusmann Jr.

Mexican drug trafficking organizations make billions each year smuggling drugs into the United States, profiting enormously from the prohibitionist drug policies of the US government. Since Mexican president Felipe Calderon took office in December 2006 and called the armed forces into the fight against the so-called cartels, prohibition-related violence has killed around 40,000 people, including more than 15,000 last year. The increasing militarization of the drug war and the arrest or killing of dozens of high-profile drug traffickers have failed to stem the flow of drugs -- or the violence -- whatsoever. The Merida initiative, which provides $1.4 billion over three years for the US to assist the Mexican government with training, equipment and intelligence, has so far failed to make a difference. Here are a few of the latest developments in Mexico's drug war: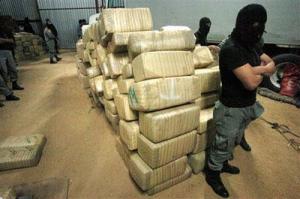 Monday, October 17
In an interview published in the New York Times,
President Calderon said
he believes that Sinaloa Cartel boss Joaquin "El Chapo" Guzman is in the United States. "He is not in Mexican territory, and I suppose that Chapo is in American territory," he said. Calderon also questioned why Guzman's wife wasn't detained when she gave birth at a Los Angeles area clinic in August.
Wednesday, October 19
In Arizona,
an ICE officer was arrested for marijuana smuggling
after a high-speed chase with authorities. Jason Alistair Lowery, 34, had been under investigation for more than a month after a known smuggler who had been arrested identified him as being involved in drug rips and in trafficking. He was arrested after agreeing to pick up 500 pounds of marijuana from a desert location.
Thursday, October 20
In Texas,
the nephew of an imprisoned Gulf Cartel leader was arrested
during a traffic stop in Port Isabel. Rafael Junior Cardenas Vela was charged with immigration and drug conspiracy charges in the operation, which was conducted by ICE. Rafael Cardenas allegedly admitted to being involved in large cocaine and marijuana shipments to the US. Additionally, a July 8 shootout near Brownsville is attributed to a Zeta attempt to capture or kill Rafael Cardenas.
In Monterrey,
a car bomb attack was conducted
against a military patrol which had been chasing suspected cartel members. No soldiers were wounded in the incident, which took place after they gave chase to a car with suspicious men on board during a patrol. Several other car bomb incidents have taken place in Mexico over the last year.
In Veracruz, eight bodies were found in the town of Paso de Viejas.
In Tecamac, Mexico State,
a well-known local drug trafficker was arrested
along with 10 of his bodyguards. Adrian Soria Ramirez, "El Hongo," had been leading a gang currently fighting for control of drug sales in several areas of the greater Mexico City area.
Saturday, October 22
In Durango,
cartel activity led much of the population of the towns of Villa Ocampo and Los Nieves to lock themselves inside their homes
when a convoy of armed men passed through the area. The local municipal police force fled to their station. Three men were abducted by the convoy and later found executed.
Sunday, October 23
In Sinaloa,
the army raided an auto shop
used by cartel members to bulletproof vehicles. Ten people were taken into custody and 16 vehicles were seized. Similar bulletproofing shops have been discovered in other parts of Mexico, notably Tamaulipas.
In Ciudad Juarez,
at least 9 people were murdered.
Among the dead was a jeweler who was shot dead in his home by two armed men, and one person who was decapitated.
Monday, October 24
In Tamaulipas,
a Mexican army unit was deployed
to the Frontera Chica area across the Rio Grande from Starr County, Texas. The soldiers, from Mexico's 105th Battalion, will patrol the Camargo, Miguel Aleman and Ciudad Mier areas in response to recent fighting in the area.
Tuesday, October 25
In Acapulco,
authorities announced that they recently arrested
a man and a woman and discovered an icebox with a human head and other remains in the car they were driving. The car was pulled over by federal police because it matched the description of a car used in a recent kidnapping. The female suspect, 19 year-old Damaris Gomez, allegedly is the leader of a group of assassins employed by a local criminal organization.
Editor's Note: We can no longer tally this year's drug war deaths in Mexico with accuracy. The figure for this year's deaths is an estimate, no more, until there is some official toll reported.]
Total Body Count for 2007 (approx.): 4,300
Total Body Count for 2008 (approx.): 5,400
Total Body Count for 2009 (approx.): 9,600
Total Body Count for 2010 (official): 15,273
Total Body Count for 2011: (approx.): 8,100
TOTAL: > 42,000