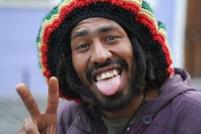 A court in Ontario has struck down Canada's marijuana law, saying it prevented patients from gaining access to their medicine. Now, the government has 90 days to respond before pot is legal in Ontario.
A new poll in California shows strong support for reducing drug possession from a felony to a misdemeanor and lesser, but still substantial, support for decriminalization.
Montana's Republican legislature wanted to repeal the state's voter-approved medical marijuana law, but the Democratic governor struck it down with the veto pen.
This is the final installment in a six-part series highlighting interesting and important pages from ProCon.org, an in-depth web site presenting information and views from a variety of perspectives on controversial issues, several of which relate to drug policy.
Just when you thought it couldn't possibly get worse... 116 bodies turn up in a series of mass graves just south of the border.
A decade ago, the Jamaican government quietly shelved a National Ganja Commission report calling for decriminalization. This week, it decided to take it up again.
Poland is taking steps to reform its harsh drug laws with something that looks a little bit like the decriminalization of drug possession. It's a start.
A typical corrupt cop week: Missing evidence, corruption on the border, greedy jail guards, and thuggish dope squad cops.
A bill that would authorize medical marijuana dispensaries and increase patient protections in Washington state has passed both houses, but faces a reconciliation vote in the Senate and a less-than-committed governor.
Maryland looks set to approve a medical marijuana affirmative defense bill, with only one more pro forma Senate vote left before it goes to the governor for his signature.
Simple drug possession is about to become a misdemeanor in Delaware, as a major drug sentencing reform bill awaits one last procedural vote.
Acting with great rapidity for a legislative body, the Czech Parliament has moved to ban dozens of synthetic drugs, and the stuff that gets you high in salvia divinorum, too.
Events and quotes of note from this week's drug policy events of years past.
Permission to Reprint:
This issue of Drug War Chronicle is licensed under a modified
Creative Commons Attribution license
. Articles of a purely educational nature in Drug War Chronicle appear courtesy of DRCNet Foundation, unless otherwise noted.