A medical marijuana bill that would legalize dispensaries and provide patients with new protections from arrest passed the House on a 54-43 vote Monday afternoon. The Senate passed a slightly different version of the bill last month, so the bill now must go to a conference committee to hash out differences before heading to the desk of Gov. Christine Gregoire (D).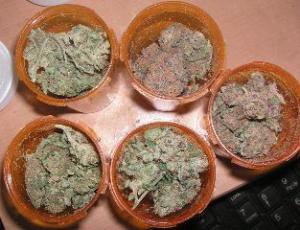 Gregoire has not said definitely whether she would sign the bill. "At this point, I have concerns about it," she told the
Seattle Times
Monday. She did not elaborate.
The bill,
Senate Bill 5703
, would license dispensaries, commercial growers, and cannabis edibles manufacturers, who would pay both sales and business taxes. The state Department of Revenue estimated that the measure would generate $920,000 in taxes for the state next year, with that figure rising to $6 million a year by 2017.
More than a hundred dispensaries have already opened in the state, but because the voter-approved 1998 medical marijuana law does not explicitly allow them, they are currently operating in a murky legal area. Some dispensary operators have been arrested and successfully prosecuted.
"We owe it to the state to be compassionate in these times," said bill sponsor Rep. Mary Lou Dickerson (D-Seattle) during debate Monday, recalling a relative whose end of life suffering was eased by using medical marijuana.
But Republican legislators were less concerned with compassion than control. They unsuccessfully offered amendments that would have kept dispensaries 1,000 feet from schools and that would have barred patients from growing their own. They also articulated standard drug war rhetoric.
"It's sad we're moving in this direction," said Rep. Jim McCune (R-Graham). "I think of the safety of citizens of the state of Washington as we are moving another mind-altering drug into the system."
The Senate must address several changes made in the House. The House version sets a quota of one dispensary for every 20,000 residents, and the two versions of the bill also differ on how large patient collective gardens can be. And while both versions seek to more tightly regulate medical clinics that specialize in medical marijuana recommendations, the House bill bans them outright.
The bill has been supported by the
Marijuana Policy Project
, the
ACLU of Washington
, and the newly-formed
Washington Cannabis Association
, among others.
But note everybody was happy with the version of the bill passed by the House. In an email to members, one activist group complained that bill had been "gutted" in the House, citing restrictions on patients, physicians, and dispensaries in the House bill. But even that group said it was committed to working with legislators and other activists to achieve the best bill possible.
Medical marijuana dispensary and patient protection legislation is not quite a done deal in Olympia, but it's getting very close.Let's hope they get it right.