Ten years ago, Jamaica's government-appointed National Commission on Ganja produced a report calling for marijuana decriminalization, which the Jamaican government, under pressure from the US, promptly forgot about. But now, the government of Prime Minister Bruce Golding has announced that it will again review those recommendations.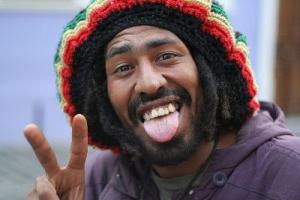 According to the
Associated Press
, the decision was announced Monday in Kingston. Six cabinet ministers will review the 2001 report.
That report, which was authored by academics and physicians, found that pot smoking was "culturally entrenched" in the island nation and that most moderate users suffered no ill effects. While it called for decriminalization,
ominous rumblings from the US Embassy
in Kingston at the time ensured that the notion died a quiet death.
Ganja has broad -- although not complete -- public acceptance in Jamaica, where it is considered a sacrament by adherents of Rastafarianism. But its possession or cultivation is illegal under Jamaican law.
The Rev. Webster Edwards, who was a commission member, told the Associated Press Tuesday he was relieved that the report would be reviewed by cabinet members and that he hoped the review would eventually lead to loosening the marijuana laws. That would require legislative action.
"There have been many persons who have been lifelong smokers of ganja who have not moved to harder drugs at all," Edwards said. "Decriminalizing very, very small quantities will allow persons not to get strikes against them in the justice system."
The US has long worked with Jamaican authorities to eradicate marijuana cultivation and smuggling from Jamaica to the US. Embassy officials told the AP Tuesday that they did not know why the Jamaican government was taking up the issue, but that it was an internal affair.
"Whatever the impetus, it's an internal Jamaican issue, and we therefore don't comment on either the debate or the outcome," Embassy spokeswoman Yolonda Kerney said.
Has enough changed in the past decade for the Jamaican government to actually move forward on the ganja commission recommendations this time? Has enough changed for Washington to not interfere? Let's hope so.