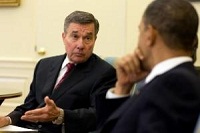 New York City shamefully retains its title as the nation's small-time pot bust capital -- and this in a state that decriminalized pot in the 1970s!
The Obama administration has submitted its 2012 federal drug control budget proposal. There's not much new there, and little evidence the administration is putting its money where its mouth is.
Ding, dong, the bill is dead! Canada's Conservative government has been blocked once again in its effort to pass a bill creating mandatory minimum sentences for drug offenses.
DrugWarFacts.org is an in-depth compilation of key facts, stats and quotes on the full range of drug policy issues, excerpted from expert publications. This is the final installment in a six-week serious of info items excerpted from the web site.
Reactionaries won a victory in Helena Thursday, but medical marijuana is far from done for Montana.
A 25-year-old Colorado man has been shot and killed by Aurora Police undercover officers. He was carrying two guns, but it's not clear if he fired or brandished them.
Roger Goodman has done wonders in Washington state. Now, the drug reforming politician wants to go to Washington, DC.
Cops can't find their missing dope in Georgia and Massachusetts, another jail guard goes down, a North Carolina narc pays for getting greedy, and so does a South Carolina magistrate.
It's silly season in Peruvian presidential politics: First, a candidate gets attacked for saying he wants to decriminalize when Peru already has decriminalization, then it's a demand for candidate drug tests.
Colombian President Santos has signaled a willingness to put drug legalization on the table. The Colombian courts may do part of the job for him.
Events and quotes of note from this week's drug policy events of years past.
Permission to Reprint:
This issue of Drug War Chronicle is licensed under a modified
Creative Commons Attribution license
. Articles of a purely educational nature in Drug War Chronicle appear courtesy of DRCNet Foundation, unless otherwise noted.