The government of Canadian Prime Minister Stephen Harper has been thwarted once again in its effort to pass a bill that would impose mandatory minimum sentences for drug offenses. The opposition Liberals announced February 10 that they will not support the legislation.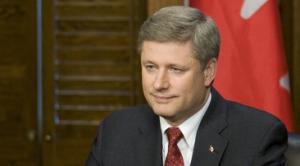 Because Harper's Conservative government is a minority government, it needs the support of opposition parties in the House of Commons to pass the crime bill,
S-10
. But the other opposition parties, the New Democrats and the Bloc Quebecois, have been staunch opponents of the measure. With the Liberals announcing they will vote against S-10, Harper's government doesn't have the votes to pass it.
The bill would have enacted mandatory minimum sentences for growing as few as six pot plants. The Liberals took their stand against it after Conservatives refused to say how much it would cost.
"This bill isn't tough on crime, it's dumb on crime," said Liberal Leader Michael Ignatieff. "We're all in favor of cracking down on serious criminals, but this bill doesn't distinguish between massive grow-ops and a first-time offender with a small amount. What's more, the Conservatives won't tell us what the fiscal implications of this bill are. How many billions will it cost? How many mega-prisons will have to be built? For these reasons, we just can't support it," he said.
The bill had already passed the Senate, where the Conservatives hold a majority, but opposition had been growing as it headed for the House of Commons. Earlier this week, more than 550 health professionals signed an
open letter
opposing the bill.
"The scientific evidence shows that mandatory minimum sentences will not cut violent crime, reduce drug use or improve public safety," said Dr. Thomas Kerr, co‐director of the Urban Health Research Initiative, one of the groups behind the letter. "To turn the tide on organized crime and drug use in Canada we need illicit drug policies based on the best available scientific evidence. Unfortunately, Bill S‐10 turns its back on evidence‐based research in favor of misguided political appeal."
Canadian anti-prohibitionists welcomed the move by the Liberals. "We are extremely pleased that the Liberal Party has made its decision on the basis of evidence," said Kirk Tousaw, executive director of the Vancouver-based
Beyond Prohibition Foundation
. "This punishment plan would not have reduced crime, nor would it have made Canadian safer from the influence of gangs. In fact, the foundation has long argued that the evidence is clear that ramping up a war on drugs has the perverse effect of making drugs more available, cheaper and more potent while simultaneously increasing the profitability and violent tendencies of organized criminals. Today the Liberal Party of Canada decided to be smart on crime."
This year's effort to pass the crime bill was the third by the Harper government. Perhaps now the Tories will give it a rest.