In an interview with the magazine Semana published Sunday, Conservative Colombian President Juan Manuel Santos said he was open to decriminalizing drug possession. Drug possession had been decriminalized in Colombia from the early 1990s until 2009, when, after years of effort, then President Alvaro Uribe managed to push through re-criminalization.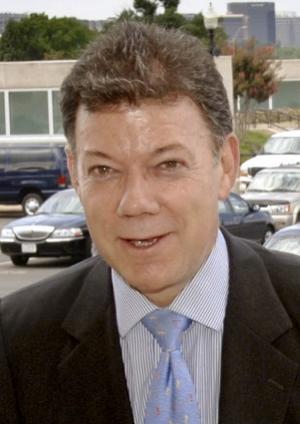 Decriminalization "is an alternative that we can discuss," he said, but further comments suggested he is open to ending prohibition of production and sales of drugs as well. "I am not opposed to any formula that is effective, and if the world decides to legalize and thinks that that is how we reduce violence and crime, I could go along with that," he added.
Colombia is one of the world's leading coca and cocaine producers. Leftist guerrillas and rightist paramilitaries have both profited from the trade, as have non-political criminal elements.
"President Santos's cautious but clear support for seriously debating the option of legalization as a solution to prohibition-related violence and crime sends an important message to other presidents and prime ministers," said
Drug Policy Alliance
executive director Ethan Nadelmann in a statement Monday. "Taken together with President Obama's recent acknowledgement that legalization is a legitimate topic for debate, it suggests that the debate is opening up globally in ways that are both unprecedented and essential to meaningful drug policy reform."
Santos also signaled support for Bolivia's efforts to have coca removed from the 1961 Single Convention on Narcotics list of controlled substances. That request is before the United Nations right now and has been challenged by the US and a number of European countries.
"I am open to discussing new alternatives, but we cannot make the change alone," he said. "And we have no alternative to fighting the chain of drug trafficking. We support Bolivia because this is established in the constitution: respect the indigenous peoples and their traditions."
Santos' remarks on decriminalization come as Colombia's Constitutional Court hears a challenge to the 2009 re-criminalization law. The
International Center on Human Rights and Drug Policy
last week submitted an
amicus brief
to the court arguing that decriminalization is not prohibited by the UN anti-drug conventions or the UN Convention on the Rights of the Child.