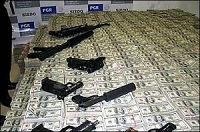 Conservatives for sentencing reform? Who woulda thunk it? But that's what's happening.
State and federal courts have been grappling with the issue of whether police need a warrant to install a GPS tracking device on a vehicle. Now it may be headed for the Supreme Court.
Questions about marijuana legalization and drug policy dominated a YouTube "Ask Obama" forum last week, and this time, Obama responded with more than a laugh.
The next round of pot legalization initiatives is getting off the ground in the Pacific Northwest.
DrugWarFacts.org is an in-depth compilation of key facts, stats and quotes on the full range of drug policy issues, excerpted from expert publications. The Chronicle is running a series of info items from DrugWarFacts.org, and we encourage you to check it out.
Now, here's a shocker: An Illinois study finds that blacks are five times more likely to be sent to prison for drug possession than whites.
It was a relatively quiet week in Mexico's drug wars -- only a hundred people killed -- but Ciudad Juarez continues to live up to its reputation as one of the world's deadliest cities.
No cops got arrested this week for drug prohibition-related corruption, but a few got convicted, and one got sentenced.
Confronted with a new synthetic stimulant drug, a US senator reflexively reaches for the ban button.
As the US, UK, and Sweden file formal objections to Bolivian efforts to amend the UN 1961 Single Convention on Narcotic Drugs to end the proscription on coca leaf chewing, Bolivians take to the streets.
Iran is already one of the world's leading death penalty countries, but it has been hanging drug offenders at a record pace so far this year.
Events and quotes of note from this week's drug policy events of years past.
Permission to Reprint:
This issue of Drug War Chronicle is licensed under a modified
Creative Commons Attribution license
. Articles of a purely educational nature in Drug War Chronicle appear courtesy of DRCNet Foundation, unless otherwise noted.