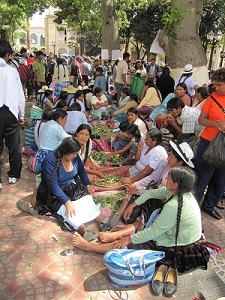 Thousands of Bolivians took to the streets January 26 to chew coca leaf in support of their government's effort to have coca chewing removed from the list of proscribed activities and substances under the 1961 Single Convention on Narcotic Drugs. The government of President Evo Morales 18 months ago offered an
amendment
to the treaty that urges the United Nations to undo the ban on coca chewing.
Coca, a plant indigenous to the Andes, is the source of cocaine, but the coca leaf has been part of traditional Andean culture for thousands of years. Chewing the leaf provides an energy boost and relieves hunger pangs. Bolivia has recognized the coca leaf as part of its cultural patrimony.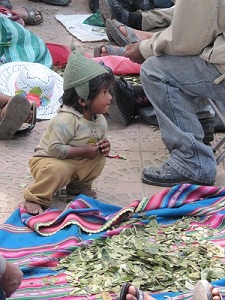 Advocates for the amendment point to the 2007 UN Declaration on the Rights of Indigenous People. It says that "indigenous peoples have the right to maintain, control, protect and develop their cultural heritage, traditional knowledge and traditional cultural expressions."
As the January 31 deadline to contest the amendment draws has come and gone, the US, Canada, Britain, Denmark, Germany, and Norway have objected to the amendment. The new Colombian government of Juan Manuel Santos withdrew an objection it had filed in December. If there had been no objections, the amendment would have automatically taken effect, but now the UN Economic and Social Council (ECOSOC) will have to decide whether to approve or reject the amendment, or to convene a conference of the parties to discuss the matter.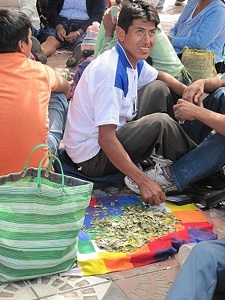 Last week, the US Embassy in Bolivia tried to play both sides of the aisle, saying in a statement that it "respects indigenous peoples' culture and recognizes that
acullico
(coca-chewing) is a traditional custom in Bolivian culture," but that it does not support the amendment because of "the importance of maintaining the integrity of the 1961 Convention, which represents an important tool in the global fight against narcotrafficking."
Now it will be up to ECOSOC to move this issue forward.