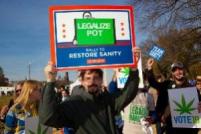 Ballot measures, phonebanking, legalizers at the Sanity/Fear Rally. And why Prop 19 win or lose has been a winner for the cause.
Prop 19 has built a formidable coalition of supporters, and it's generated nearly $2 million in donations in the past month. It will need every bit of that cash and support to get over the top, but the campaign says it can still do it.
Will a Tea Party tidal wave swamp Oregon's dispensary initiative or will young voters be enthused enough to save it?
The trend line is looking good for marijuana legalization. It's gone up 15 points in 10 years and now stands at 46% nationwide.
It looks like South Dakota's medical marijuana initiative is in trouble, at least according to two recent polls.
Two more polls show Prop 19 losing, but with some grounds for hope.
Permission to Reprint:
This issue of Drug War Chronicle is licensed under a modified
Creative Commons Attribution license
. Articles of a purely educational nature in Drug War Chronicle appear courtesy of DRCNet Foundation, unless otherwise noted.