Though the fate of California's Prop 19 remains unknown at the time of this writing, majority support in the US for marijuana legalization appears to be just a few years away. An all-time high of 46% of Americans favor legalizing marijuana, according to a Gallup poll released Thursday. The number opposed to legalization dropped to an all-time low of 50%. Support increased from 44% last year, continuing an upward trend in the past decade.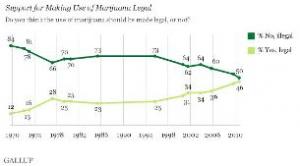 Support for legalization was at 12% in a Gallup poll in 1969 and climbed to 28% in 1978, then stayed flat at about 25% throughout the 1980s and most of the 1990s. By 2001, support had climbed to 31%, by 2004 it was at 34%, by 2006 it was at 36%. Since then, support has grown by 10 points to 46%.
"If the trend of the past decade continues at a similar pace, majority support could be a reality within the next few years," Gallup noted in its discussion of the poll results.
Pot legalization scored majority support among liberals (79%), 18-to-29-year-olds (61%), Westerners (58%), Democrats (55%), independents (54%), men (51%) and moderates (51%). It did least well among Republicans (29%), conservatives (30%), and people over 65 (32%)
Support varied among regions, from the West's high of 58% to 47% in the East, 42% in the Midwest, and 41% in the South.
The poll also asked about support for medical marijuana and found that 70% of Americans supported it. But that figure is down from 75% in 2003 and 78% in 2005.
The poll was based on live cell phone and land line interviews conducted October 7-10 with a random sample of 1,025 adults. Each question was asked of a half-sample of approximately 500 respondents. The margin of sampling error was +/-5 percentage points.