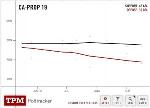 Michael Lapihuska went back home to Alabama for a holiday visit in December. He's still there, caught in a nightmare because of his doctor-recommended medical marijuana. Heart of Dixie? More like Heart of Darkness.
New Jersey's medical marijuana bill was signed into law in January, but maneuvering by the Republican governor is holding up implementation, and patients and advocates are growing frustrated.
Despite more than a decade of reformist pressures, the drug war juggernaut continues to roll along, as the FBI's most recent arrest numbers show.
The Columbia, Missouri, family traumatized by a dog-shooting SWAT team on a pot raid made famous via a viral video on the Internet has filed a federal civil lawsuit against the city and the cops involved.
There's good, but not great, news on the polling front for Prop 19. It has a nine-point lead, but the lead is shrinking and it's still under 50%.
This year's death toll has surpassed 8,000, and a Ciudad Juarez newspaper asks the cartels to tell them what they can safely print.
More law enforcement pervs this week, as well as your run of the mill greedy narcs. But prison and jail guards must have been on good behavior.
A state senator with progressive drug policy stances has won the Democratic nomination for attorney general in New York.
The Montana Meth Project's images of gaunt, scarred speed freaks have been widely credited with cutting meth use in the state. Not so fast, says some new research.
As Britain's controvery over cannabis continues, a top police official and a key Liberal Democrat join the ranks of those seeking reform.
Cambodia has been criticized for its inhumane drug treatment centers, but is winning praise for opening its first methadone clinic.
Events and quotes of note from this week's drug policy events of years past.
Permission to Reprint:
This issue of Drug War Chronicle is licensed under a modified
Creative Commons Attribution license
. Articles of a purely educational nature in Drug War Chronicle appear courtesy of DRCNet Foundation, unless otherwise noted.