The Columbia, Missouri, family whose dogs were shot during a Columbia Police SWAT raid in February, video of which went viral on the Internet, filed a federal civil lawsuit Monday against the City of Columbia and 13 other defendants in US Western District Court in Jefferson City.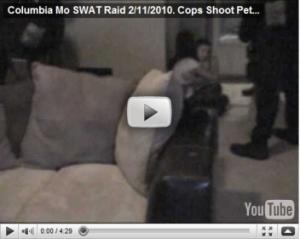 The raid, in which police expected to find a large quantity of marijuana and other evidence of drug dealing, turned up a miniscule amount of marijuana and a pot pipe. Jonathan Whitworth was originally charged with possession of marijuana, possession of drug paraphernalia and second-degree child endangerment, but in a plea agreement, pleaded guilty to the paraphernalia count, and the other charges were dropped.
The suit was filed by Columbia attorneys Milt Harper and Jeff Hilbrenner on behalf Jonathan and Brittany Whitworth and her seven-year-old son. It alleges that SWAT team members broke down the door, discharged weapons as they entered and again as they shot and killed one dog and wounded the other. It also alleges than Jonathan Whitworth was kicked by an officer as he lay on the floor at gunpoint, and that Brittany Whitworth and her child were held at gunpoint sitting on the floor in view of the child's dead dog.
"Defendants had no reason to use deadly force or any other force upon entering the Whitworth home," the complaint charges. "Defendants were all armed with assault weapons and side arms and other weapons. Jonathan Whitworth, Brittany Whitworth, and P. M. [the child] were not armed, were not violent, were not resisting and were no threat to Defendants or anyone else. The two pet dogs were no threat to anyone and there was no reason to use assault weapons on those two animals. Defendants, under color of law, deprived each Plaintiff of rights secured under the Constitution and laws of the United States. Defendants conspired to deprive each Plaintiff of rights secured under the Constitution and laws of the United States. Defendants refused or failed to prevent the deprivation of Plaintiffs' rights secured under the Constitution and laws of the United States."
The lawsuit seeks restitution for bullet hole and door damage to the Whitworth home, as well as medical and veterinary expenses for the dead and wounded dogs. It is filed against the officers who were on the scene.
"This is all about demanding professionalism from our law enforcement agencies,"
Harper said Monday
. "I think when they considered the 7-year-old and the fact that he had to have counseling, pay vet bills for an injured dog and the loss of another, along with repairs to the home and the trauma of that night, they made the decision that this needed to be done," Harper said.
"Our department will discuss the matter with our risk management office and legal office and be able to comment further once we've had a chance to do that," Columbia police spokeswoman Officer Jessie Haden told the Columbia Tribune Monday afternoon. "Whatever we're able to discuss publicly and legally, we will. This incident has received an enormous amount of attention locally, and it is our intention to make the public as informed, with accurate information, as we can, without compromising the legal process."
The raid and heated public response to it has led to repeated public hearings in Columbia, and the department moved quickly to review and revamp its policy regarding the use of the SWAT team on search warrants. But it will likely have to pay for its errors in the Whitworth raid.