In 2005, Montana had one of the highest rates of methamphetamine use in the country, and businessman Thomas Siebel responded with the Montana Meth Project, an anti-meth campaign relying on graphic advertisements feature users' bodies decaying, teen girls prostituting themselves for meth, teens committing violent crimes to support their habits, and groups of young meth users allowing their friends to die.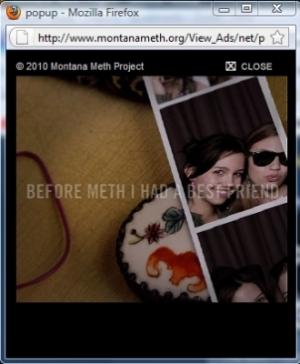 The project has been widely touted as reducing meth use rates in Montana, and the Montana Meth Project makes similar claims on its
results page
. Based on claimed results in Montana, similar programs have gotten underway in Arizona, Idaho, Illinois, Wyoming, Colorado, Hawaii and, this past March, Georgia.
But a
new study
from the University of Washington published in this month's issue of the Journal of Health Economics casts doubt on the project's claim to have influenced meth use rates. The rate of meth use in Montana was already declining by the time the Montana Meth Project got underway, the study found.
"Methamphetamine use was trending downward already, and the research shows that the project has had no discernable impact on meth use," said study author D. Mark Anderson, a UW doctoral student in economics.
Anderson said the project had not been empirically and rigorously scrutinized until his study. Using data from Youth Risk Behavior Surveys conducted by the Centers for Disease Control and Prevention, Anderson compared meth use rates to rates nationwide and in nearby states. Using demographically similar Wyoming and North Dakota, which undertook no anti-meth project programs, as control cases, Anderson showed that in all three states, meth use declined gradually between 1999 and 2009.
Anderson also scrutinized drug treatment admission reports from the Substance Abuse and Mental Health Services Administration (SAMHSA) and found that the Montana Meth Project had no measurable effect on meth use among young Montanans. His findings suggested that other factors, such as law enforcement crackdowns prior to 2005 or increasing knowledge of the ill-effects of meth use, were more likely to have led to declining levels of meth use.
"Perhaps word got around on the street, long before the campaign was adopted, that meth is devastating," Anderson said. "Future research, perhaps of meth projects in the other states, should determine whether factors that preceded the campaigns contributed to decreases in usage."