Proposition 19 pot legalization initiative leads 47%-38% in the latest Public Policy Polling survey of likely voters. That's good, but not great, news for the campaign.

Good because nine points is a nice cushion six weeks out from election day. But not great because Prop 19 is still polling under 50% when it needs 50% plus one vote to win and because the race is closer than in the previous Public Policy Polling survey in July, when it led 52%-36%.

The poll is an automated phone survey of 630 likely voters, with a margin of error of +/- 3.9%. It took place last week.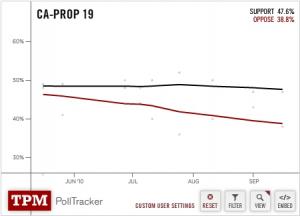 Most, but not all recent polls, have shown Prop 19 leading. The
Talking Points Memo Poll Average on Prop 19
, which combines all the recent polls, has the measure leading 47.8% to 38.8%.
Telephone robo-polls have generated higher numbers than face to face interview polls, leading some observers to suggest some people may be more willing to embrace a controversial position like marijuana legalization in the facelessness of the robo-polls.
Prop 19 was supported by 74% of liberals, 47% of moderates, and only 27% of conservatives. 53% of men supported it, compared to only 42% of women, suggesting the campaign has not been able to overcome lackluster support in what it considers a key swing constituency.
Whites showed the strongest support at 49%, followed by blacks at 46%, Asians at 44%, and the large Hispanic electorate at 42%.
Six weeks out, victory appears tantalizingly within reach, but defeat cannot be ruled out. This sucker is going down to the wire.