Violence linked to cartel infighting continues to rock Mexico's state of Michoacan, a Vancouver clinic is now offering take-home prescription heroin to a small number of patients, and more.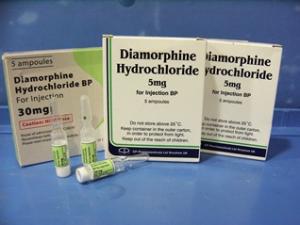 nternational
Vancouver Clinic Doing Take-Home Prescription Heroin. In a North American first, the Providence Crosstown Clinic in Vancouver has begun providing take-home medical grade heroin to a small number of addicted patients. The program began as an emergency response to the COVID epidemic, when the provincial health authority allowed clinic staff to deliver syringes filled with heroin to patients so they could stay isolated for 10 to 14 days. "Having done that and done that successfully without any problems, we were able to show and demonstrate the strict requirement of the medication to only be [administered] at the clinic was not necessary," said Dr. Scott MacDonald, head physician at the clinic. The program is currently serving only 11 patients, but MacDonald said expanding the program is a crucial step toward addressing the province's opioid crisis, which has seen more than a thousand overdose deaths so far this year. "Their lives can change dramatically. People can go from accessing street opioids, perhaps having unstable housing and unable to work to stabilized and being able to work, and some people working full-time," he said.
Mexico's Michoacan Sees More Cartel Violence. The Jalisco New Generation Cartel (CJNG) besieged the Michoacan municipality of Tepalcatepec last week, killing and beheading five local men who were manning a checkpoint aimed at keeping cartel gunmen out of town. The cartel had tried to seize control of the city but was met with resistance from local residents and the National Guard. Cartel gunmen then switched their focus to the community of La Estanzuela, located near the border between Tepalcatepec and the Jalisco municipality of Jilotlán. The CJNG has been trying to take control of the region for the past two years and is locked in battle with the Carteles Unidos over control of the region and the state.
Nepal Protest for Marijuana Legalization. Sparked by the September 6 arrest of prominent marijuana legalization advocate Rajiv Kafle for consumption, possession, and distribution of marijuana, a youth group from Kathmandu Valley staged a protest calling for legalization at Maitighar on Monday. Protesters chanted slogans and held up signs citing the medicinal and economic benefits of legalization. Nepal has a history of cannabis use dating back centuries and its charas was enjoyed by Western travelers on the Hippie Trail in the 1060s, but under US pressure canceled the licenses for all cannabis businesses in 1973, and then criminalized cannabis in 1976.