Madison WI ends penalties for pot use and possession, Vancouver, BC to take up a drug decriminalization ordinance, Mexican marijuana legalization bill heads for a Senate floor vote, and more.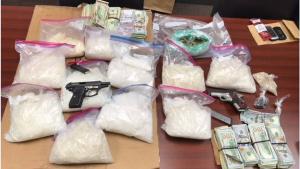 Marijuana Policy
North Carolina's Governor Racial Equity Task Force Calls for Marijuana Decriminalization, Study of Legalization. Gov. Roy Cooper's (D) Task Force for Racial Equity in Criminal Justice has recommended that the state study marijuana legalization and enact decriminalization in the meantime. Attorney General Josh Stein (D) who co-chairs the task force, made the case succinctly: "You cannot talk about improving racial equity in our criminal justice system without talking about marijuana," he said.
Madison, Wisconsin, City Council Votes to Remove Penalties for Marijuana Use, Possession. The city's Common Council unanimously approved three marijuana-related ordinances Tuesday that should reduce pot arrests in the state's capital. One allows adults to possess up to an ounce, another allows them to consume it on public or private property, and a third decriminalizes the possession of pot paraphernalia.
Methamphetamine
Senate Approves Meth Bill by Unanimous Consent. The Senate on Monday approved SB 4612, the Methamphetamine Response Act. The bill declares meth "an emerging drug threat" and requires the Office of National Drug Control Policy (ONDCP -- the drug czar's office) to come with a response plan within 90 days. That plan, which must be updated annually, must include an assessment of threat, as well as treatment and prevention programs and law enforcement programs. It must also set the level of funding needed to implement the plan. The House version of the bill, HR 8210, is parked in the House Energy and Commerce Committee, which is where it has been since being introduced.
International
Vancouver Mayor to File Motion to Decriminalize Drug Possession. Vancouver, British Columbia, Mayor Kennedy Stewart announced Wednesday that he will file a motion to decriminalize the possession of illicit drugs in the city. "It's not a criminal issue, it's a health issue," he said, saying the move is "long overdue." If the council passes the measure, the city will ask the federal government to "decriminalize personal possession of illicit substances within the City's boundaries for medical purposes."
Mexico Denies Threatening to Expel DEA Agents After Ex-Defense Minister's Drug Arrest. President Andres Manual Lopez Obrador denied Thursday that Mexico had threatened to expel American DEA agents to retaliate for the arrest of ex-Defense Minister Salvador Cienfuegos upon arrival at LAX last month. At the same time, Foreign Minister Marcelo Ebrard said Mexico had threatened a review of security cooperation because the US did not provide advance notice that Cienfuegos was under investigation, but said there was no specific threat to expel DEA agents.
Mexican Senate Committees Approve Marijuana Legalization Bill. The marijuana legalization bill has been formally approved by the Senate Justice, Health, and Legislative Studies committees and is headed for a full floor vote soon. The bill would legalize the possession of up to an ounce by adults and allow the cultivation of up to four plants for personal use. It would also set up a taxed and regulated marijuana market.