There will still be marijuana felonies under a bill moving in Alaska, North Dakota has a new hemp law, an Arkansas welfare drug test bill heads to the governor's desk, Obama commutes sentences, and more.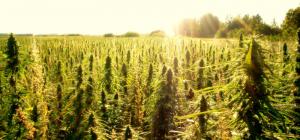 Marijuana Policy
Alaska Senate Passes Marijuana Bill -- Without Ban on Concentrates. The Senate voted Monday night to approve SB 30, the bill designed to update the state's criminal code to reflect marijuana's legalized status. The bill was approved 17-3 after an amendment to make concentrates illegal in two years was defeated. It continues to list pot as a controlled substance and has provisions making it a felony to possess more than a pound or to grow more than 25 plants. It also bans pot businesses in unorganized boroughs.
Another Maine Legalization Bill Filed. Rep. Mark Dion (D-Portland) has filed a bill to allow adults 21 and over to use marijuana, regulate commercial sales, and tax them at 15%. The bill is still being drafted and is not yet available on the legislative web site. Rep. Diane Russell (D-Portland) has also filed a legalization bill, but its language isn't completed yet, either. There are also two separate legalization initiative campaigns brewing the in the state.
Hemp
North Dakota Governor Signs Hemp Bill Telling Feds to Butt Out. Gov. Jack Dalrymple (R) last Friday signed House Bill 1436, which allows farmers to apply to grow the crop for either research or commercial purposes. The bill says that "license required by this section is not conditioned on or subject to review or approval by the United States drug enforcement agency," a direct jab at the DEA. Instead, licensing will be up to the state agriculture department.
Drug Testing
Arkansas Legislature Passes "Suspicion Based" Welfare Drug Testing Bill. The House Monday approved Senate Bill 600, which would set up a two-year pilot program for "suspicion based" drug screening and testing of public benefits applicants. The Senate, which had already approved it, gave it a final approval today, and the bill now heads to the governor's desk.
Harm Reduction
Indiana Needle Exchange Bill Wins House Committee Vote. The House Public Health Committee Monday approved a bill to allow needle exchanges in the 23 counties in the state with the highest rates of hepatitis C infections. The bill actually addresses an HIV outbreak in southeastern Scott County, where Gov. Mike Pence (R) days ago issued an executive order allowing for emergency needle exchanges. The bill now goes to the House floor.
Law Enforcement
Maine Governor Slams Foes As "Weak on Drugs." Faced with legislative skepticism over his proposals to beef up the state's drug enforcement apparatus, Tea Party Republican Gov. Paul LePage has come out swinging. "They are weak on drugs," LePage told reporters, describing the legislators. "They simply don't want to deal with the problem. Frankly, they shouldn't be in this hall, they shouldn't be in this building if they can't take care of our children. And the gloves are off now."
Sentencing
Obama Commutes Sentences of 22 Drug Offenders. The president today doubled the number of drug sentence commutations he has issued in one fell swoop by cutting sentences for 22 drug offenders, mostly crack cocaine offenders and mostly doing sentences of 20 years or more. Eight were doing life sentences for drug offenses, including one doing life for growing pot plants.
International
Spanish Cannabis Club Wins Acquittal. The provincial court in Vizcaya has acquitted five people accused of violating Spanish law by forming a club to grow and consume marijuana. The members of the Pannagh collective were charged with drug trafficking and "criminal organization," but in a victory for cannabis advocates, the court held that Pannagh acted within the limits of the concept of "collective cultivation."
British Labor Party Attacks Lib Dems as "Soft on Crime, Drugs, and Thugs." Labor has put out a leaflet attacking the Liberal Democrats on drug and crime policy ahead of looming parliamentary elections, but Labor is taking lots of flak for its efforts. One critic called the Labor approach "medieval," another accused it of underestimating the intelligence of the electorate, and yet another accused Labor of "turning their back on progressive, sensible, evidence-based reform."