President Obama today commuted the sentences of 22 convicted federal drug offenders. With that action, he has doubled the number of commutations he has issued since taking office in January 2009.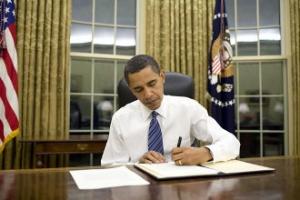 The prisoners who got their sentences cut were all convicted of possession of drugs with intent to distribute. Fourteen of the cases involved cocaine.
Many of those were convicted under harsh crack cocaine sentencing laws adopted in the 1980s and at least partially rolled back during the Obama administration. The sentences were typically 20 years or longer, with most of the prisoners having already served more than a decade behind bars.
In eight cases, the defendants were serving life sentences for drug crimes. Among the life sentences, six were for crack cocaine offenses (one included heroin, too), one was for a meth offense, and one was for a Kentucky man convicted of growing more than a thousand marijuana plants.
"Had they been sentenced under current laws and policies, many of these individuals would have already served their time and paid their debt to society," White House counsel Neil Eggleston said in a statement announcing the commutations. "Because many were convicted under an outdated sentencing regime, they served years -- in some cases more than a decade -- longer than individuals convicted today of the same crime."
In a first, the president also sent letters to each of the prisoners whose sentences he commuted urging them to take full advantage of any post-release opportunities.
"I wanted to personally inform you that I have granted your application for commutation," President Obama told Terry Barnes at the Federal Correctional Institute in Yazoo City, Mississippi. Barnes was only halfway through a 20 year sentence for crack cocaine distribution.
The same letter went out to the other 21 commutees as well.
The prisoners will see their sentences end on July 28. For a complete list, click on the link at the top of this article.