A push is on to end the federal ban on needle exchange funding, a secret federal panel meets to discuss marijuana banking issues, UN anti-drug bureaucrats are still unhappy with Uruguay, more bodies show up in Mexico, and more. Let's get to it: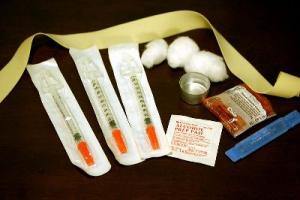 Marijuana Policy
Federal Banking Panel Meets on Pot Sales. The Bank Secrecy Act Advisory Group (BSAAG) met in Washington, DC, Thursday to discuss how to deal with banking issues related to medical marijuana and legal marijuana industries. Under current federal laws, marijuana sellers can't set up bank accounts or process credit card transaction because financial institutions fear being implicated in drug trafficking or money laundering cases. The meeting is closed-door, and there is no word yet on what, if anything, was decided.
One Year In, Coloradans Still Like Marijuana Legalization. A Public Policy Polling survey released this week found that Coloradans still support marijuana legalization. The poll found 53% agreed that marijuana use should be legal. It will be interesting to see the poll numbers a year from now, when Coloradans have had time to experience a legal marijuana industry. That begins on January 1.
Washington State Regulators Want to Ban Pot Smoking Wherever Alcohol is Sold. The state Liquor Control Board, which is also in charge of legal marijuana commerce, has proposed banning marijuana consumption in businesses licensed for liquor sales, but a Wednesday meeting saw loud opposition, in particular from Frankie Schnarr, owner of Frankie's Sports Bar and Grill in Olympia. Schnarr years ago emerged victorious in a battle with the board over whether he could open the second floor of his bar to smokers, who joined a "club" for the privilege. Schnarr opened his club to pot smokers after I-502 passed, and now claims 13,500 club members. Schnarr and others said the proposed rule was aimed directly at him. The board will vote on the proposed rule next week.
Philadelphia "Smoke Down Prohibition" Marijuana Prosecutions Continue, So Will Demonstrations. Comedian NA Poe will be sentenced Friday in federal court for smoking pot at Independence Hall as part of Philly NORML's ongoing Smoke Down Prohibition demonstrations. Two more members of the "Liberty Bell 4," Chris Goldstein and Don Dezarn will go on trial next week for puffing pot in demos this past summer, while a fourth, US Marine veteran Mike Whiter will make his first court appearance on similar federal charges. Click on the link for more details and how you can participate.
Gov. Cuomo Dismisses New York Legalization Bill as "Non-Starter." Well, that didn't take long. Yesterday, state Sen. Liz Krueger (D-Manhattan) announced she was introducing a marijuana legalization bill. That same day, a Cuomo spokesman scoffed at the bill, calling it "a non-starter."
Medical Marijuana
New Jersey Medical Marijuana Expansion Wins Assembly Committee Vote. A bill that would allow Garden State medical marijuana patients to buy the drug in other states and bring it back with them passed the Assembly Health Committee on a 7-4 vote Thursday. But Gov. Chris Christie (R) has said he will veto it or any other expansion of the state's program.
Harm Reduction
Maryland Docs, Scientists Call for End to Federal Needle Exchange Funding Ban. In the wake of the budget agreement announced this week by congressional negotiators, more than 70 Maryland-based doctors and scientists sent an open letter to Senate Appropriations Committee Chair Sen. Barbara Mikulski (D-MD) urging her to act to get the longstanding ban on federal needle exchange funding lifted. The ban had been overturned in 2010, but was reinstated without any public debate during budget negotiations the following year.
Pain Pills
State Attorneys General Call on FDA to Reconsider Zohydro Approval. The FDA is running into more flak over its October decision to approve the first hydrocodone-only drug in America, Zohydro, which will be available in a time-release form. Four US senators challenged the decision earlier this week, and now, 28 state attorneys general have asked the agency to reconsider. They cited the roll-out of earlier pain relieving drugs in time-release formulas, which they said resulted in "overzealous pharmaceutical sales" and "doctors overprescribing narcotics," among other ills. But Attorneys General are typically trained as lawyers, not doctors or pharmacists, and they seem oblivious to the continuing problem of undertreatment of pain that their campaigns foster. The FDA said it would reply directly to the law enforcement officials.
International
UNODC Criticizes Uruguay Marijuana Legalization. The UN Office on Drugs and Crime (UNODC) isn't happy with Uruguay. The South American nation's decision to legalize marijuana is a blow against international cooperation in the war on drugs, said UNODC head Yuri Fedotov. "Just as illicit drugs are everyone's shared responsibility, there is a need for each country to work closely together and to jointly agree on the way forward for dealing with this global challenge," he said in a statement. He also called the move "unfortunate."
More Mass Graves in Mexico. Authorities in the central Mexican state of Morelos have uncovered two mass graves containing at least 20 bodies. Authorities believe some of the bodies are victims of the Beltran Leyva cartel, which was largely dismantled two years ago. Others were apparently killed more recently. The discovery comes on the heels of a similar gruesome find in western Michoacan state, where the latest count had 66 bodies removed from mass graves there. More than 100,000 people are estimated to have been killed in Mexico's prohibition-related violence since 2006 and tens of thousands more have disappeared, including more than a thousand in the past two years in Moreleos, according to the state human rights commission.