by Bernd Debusmann, Jr.

Mexican drug trafficking organizations make billions each year smuggling drugs into the United States, profiting enormously from the prohibitionist drug policies of the US government. Since Mexican president Felipe Calderon took office in December 2006 and called the armed forces into the fight against the so-called cartels, prohibition-related violence has killed more than 30,000 people, including more than 9,000 this year. The increasing militarization of the drug war and the arrest of dozens of high-profile drug traffickers have failed to stem the flow of drugs -- or the violence -- whatsoever. The Merida initiative, which provides $1.4 billion over three years for the US to assist the Mexican government with training, equipment and intelligence, has so far failed to make a difference. Here are a few of the latest developments in Mexico's drug war: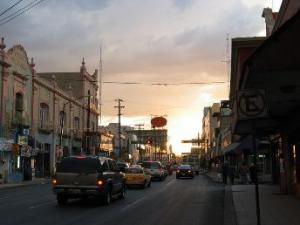 Wednesday, December 1
In Ciudad Mier, Tamaulipas,
a town official said
that residents have begun to return to the town nearly a month after being forced to flee by groups of marauding gunmen thought to belong to the Zetas Organization. Army operations are ongoing in the area. The area has been hard hit by fighting between the Zetas Organization and their former employers, the Gulf Cartel.
Friday, December 3
In Morelos,
authorities arrested a 14-year old boy
accused of beheading and mutilated his victims while operating as a cartel assassin. Edgar Jimenez, aka "El Ponchis," was taken into custody as he attempted to fly to Tijuana, with the eventual goal of fleeing to San Diego, where it has been said he is originally from. He stands accused of operating as part of a unit of assassins which included his 19-year old sister. It has also been alleged that he cut off the heads of his victims and mutilated their genitals.
Saturday, December 4
In Ciudad Juarez,
at least 16 people were murdered
across the city. In one incident, four municipal police officers were shot and killed after being ambushed by cartel gunmen using automatic weapons and traveling in at least three vehicles. This brings the number of police killed in the city this year to 136, 61 of whom were members of the municipal police.
In another incident, six people were gunned down when armed men stormed an auto-repair shop.
Sunday, December 5
In Ciudad Juarez,
four people were killed
when armed men simultaneously attacked two drug rehabilitation centers, marking the latest in a series of bloody attacks on rehab facilities in the city.
In Tamaulipas, soldiers freed 16 hostages after shooting dead two gunmen near Ciudad Victoria.
Monday, December 6
In Ciudad Juarez,
six people were killed in the city
. Among the dead was Erika Elizabeth Silva Rivera, 31, a state investigator assigned to work sex crimes. A female partner of hers was wounded in the attack. In another incident, a bound man was shot dead and his body set aflame.
Tuesday, December 7
In Ciudad Juarez,
five people were killed
in the city. One incident was a triple homicide at a body shop. This brings the number of murders in the city to 2,932 for the year. About 7,300 people have been murdered in Ciudad Juarez since January 2008.
Total Body Count for the Week: 102
Total Body Count for the Year: 9,507
Read the previous Mexico Drug War Update here.