by Bernd Debusmann, Jr.

Mexican drug trafficking organizations make billions each year smuggling drugs into the United States, profiting enormously from the prohibitionist drug policies of the US government. Since Mexican president Felipe Calderon took office in December 2006 and called the armed forces into the fight against the so-called cartels, prohibition-related violence has killed more than 30,000 people, including more than 9,000 this year. The increasing militarization of the drug war and the arrest of dozens of high-profile drug traffickers have failed to stem the flow of drugs -- or the violence -- whatsoever. The Merida initiative, which provides $1.4 billion over three years for the US to assist the Mexican government with training, equipment and intelligence, has so far failed to make a difference. Here are a few of the latest developments in Mexico's drug war: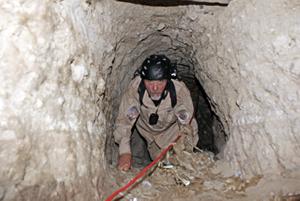 Friday, November 26
In Tijuana,
the Mayor-Elect said he will replace police chief
Julian Leyzaola. Leyzaola, who took office in December 2008, was widely praised by the US and Mexican governments for his efforts to root out corruption in city police forces and for his efforts against cartels. Leyzaola has also been accused of police brutality and human rights abuses, and the state human rights ombudsman has said that Leyzaola personally participated in beatings of suspects accused of killings police officers. Several officers accused of corruption have said they were tortured by men under Leyzaola's command.
On the border between Tijuana and San Diego,
authorities discovered a half-mile tunnel
and seized some 20 tons of marijuana. It is the second such discovery in the past month. Eight people were arrested, three of them on the American side of the border.
Saturday, November 27
In Ciudad Juarez,
police arrested a leader of the Aztecas gang
who stands accused of being a key player in the violence in the city. Arturo Gallegos, 32, aka "El Farmero" is accused of being involved in 80% of the killings that have taken place in the city since August, including the murder of two US consulate employees, the murder of five federal police officers, and the massacre of 14 students at a house party. He is also suspected of being involved in drug trafficking, kidnapping, and extortion. The Aztecas gang works for La Linea, the armed wing of the Juarez Cartel.
Monday, November 29
In Palomas, Chihuahua,
20 bodies were discovered buried
at a ranch. Soldiers discovered the site after being tipped off by several recently captured cartel members. Mexican news sources later reported that at least one of the dead had been identified as a US citizen.
In Meoqui, Chihuahua, a female police chief was gunned down. Hermila Garcia, 36, was ambushed by gunmen as she drove through the center of town. Several women have taken police chief positions in northern Mexico recently, as many potential male candidates are frightened that they will be assassinated.
Tuesday, November 30
In Michoacan,
police arrested a suspected leader
of La Familia Michoacana. Jose Alfredo Landa, 37, was thought to be in charge of LFM operations in the city of Morelia. Three other individuals were arrested and an AK-47 was seized, along with more than two dozen property titles and other documents that had come from various extortion plots he was involved in.
In Ciudad Juarez,
ten people were murdered
in several incidents in the city. This brings the monthly death toll to approximately 194 for the November, making it the second least violent month of 2010. According to El Diario, a local newspaper, 2,887 people have been murdered in Ciudad Juarez in 2010 as of December 1.
Total Body Count for the Week: 167
Total Body Count for the Year: 9,405
Read the previous Mexico Drug War Update here.