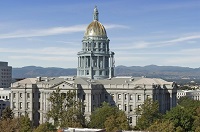 Lawmakers in several states are working to end civil asset forfeiture and stop a police end-run around such bans.
The state legislative season is upon us, and medical marijuana keeps popping up at statehouses, and in Congress.
A San Diego deputy has some bad habits, a Florida jail guard was peddling pot brownies to prisoners, and more.
A New York bill would end civil asset forfeiture, a Utah bill would decriminalize fentanyl test strips, and more.
Oregon Republicans want to undo the will of the voters on drug decriminalization, Mexico's former top security official is now on trial in New York for taking bribes from the Sinaloa Cartel, and more.
The US Virgin Islands legalizes marijuana, a Mississippi fentanyl test strip bill is moving, and more.
A Montana bill would block child welfare workers from removing children simply because of a parent's drug use, San Francisco is ready to move forward on safe injection sites, and more.
A Minnesota marijuana legalization bill continues to move, a New Hampshire bill that would legalize DMT gets a hearing, and more.
Hawaii is getting on the fentanyl test strip decriminalization bandwagon, an Arizona bill would set aside taxpayer funds to study the therapeutic potential of psilocybin, and more.
A pair of Delaware marijuana legalization bills are moving, Ukraine patients and veterans beseech the parliament to act on a pending medical marijuana bill, and more.
Permission to Reprint:
This issue of Drug War Chronicle is licensed under a modified
Creative Commons Attribution license
. Articles of a purely educational nature in Drug War Chronicle appear courtesy of DRCNet Foundation, unless otherwise noted.