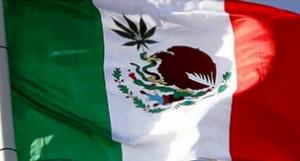 The US is about to become the only one of North America's three largest countries not to have legalized marijuana.
There's a push in Congress to provide protections for veterans who want to use medical marijuana, and more.
A Los Angeles sheriff's deputy gets caught in a brazen ripoff, a Maryland prison guard is the last of 16 to head to prison for their roles in a massive racketeering scheme, and more.
Congress could move on both sentencing reform and industrial hemp in the lame duck session, HHS recommends banning kratom, Thailand moves to legalize and regulate both kratom and medical marijuana, and more.
President Trump has given his endorsement to a limited bipartisan prison reform bill, the National League of Cities calls for marijuana rescheduling, and more.
A local activist reveals that "dozens" of unpermitted safe injection sites are operating in the Seattle area, New Jersey legislative leaders say marijuana legalization will see votes this month, and more.
Permission to Reprint:
This issue of Drug War Chronicle is licensed under a modified
Creative Commons Attribution license
. Articles of a purely educational nature in Drug War Chronicle appear courtesy of DRCNet Foundation, unless otherwise noted.