A local activist reveals that "dozens" of unpermitted safe injection sites are operating in the Seattle area, New Jersey legislative leaders say marijuana legalization will see votes this month, and more.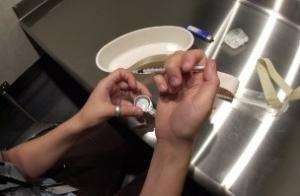 Marijuana Policy
GAO Scolds DEA over Marijuana Eradication Program. In a report released Wednesday, the Government Accountability Office (GAO) criticized the Drug Enforcement Administration (DEA) over failings in its marijuana eradication program. GAO charged that DEA failed to collect sufficient documentation from state and local law enforcement agencies that partnered with DEA in the program, a fault that could prevent DEA from accurately assessing program performance. Furthermore, DEA "has not clearly documented all of its program goals or developed performance measures to assess progress toward those goals," the report found.
New Jersey Legislative Leaders Say Vote on Marijuana Legalization Coming This Month. Assembly Speaker Craig Coughlin and Senate President Steve Sweeney said Wednesday the legislature would move on marijuana legalization this month. Coughlin said he had the votes in committee to pass legislation, while Sweeney said he needed help from Gov. Phil Murphy (D) to pick up necessary votes in the Senate. "The only way something like this gets passed legislatively is if all three of us work together," Sweeney said. "If (the governor's office is) not going to lobby any votes for us then it won't get done."
Wisconsin Legislator Will Be Back With a Legalization Bill Next Year. State Rep. Melissa Sargent (D-Madison) said Wednesday that she will once again file a marijuana legalization bill when the legislature convenes in January. Sargent has filed legalization bills every year since 2014 but has renewed momentum after voters in 16 counties and two towns voted for legalization in non-binding referenda in the midterms. "The facts clearly show that legalization is right for Wisconsin and that the most dangerous thing about marijuana is that it's illegal," she said.
Harm Reduction
"Dozens" of Underground Safe Injection Sites Are Operating in the Seattle Area. Harm reduction activist Shilo Jama has told a local media outlet that "dozens" of unpermitted safe injection sites are operating in Seattle and surrounding King County. "They're slowly developing their own culture and their own service. It's a lot like the speakeasies of old where you've got to know someone to be invited in. You need the password or some kind of information that you're not, kind of, out to get them," Jama said. Seattle and King County authorities are moving toward officially allowing such facilities, but local harm reduction activists aren't waiting.