LATEST
Statement: Duterte Moves Against Second Drug War Critic
Philippines Senator Risa Hontiveros calls for international solidarity to help stop drug war killings:
While much of the world moves toward compassionate drug policy reform, a populist would-be dictator has led one country cruelly backwards.
Since taking office, President Rodrigo Duterte of the Philippines has orchestrated a brutal campaign of extrajudicial killings, mainly as part of his "drug war." Credible estimates for the number of dead range from at least 12,000 to well over 20,000 and rising since mid-2016.
Ominously, a "Duterte effect" in the region has led to extrajudicial drug war killings in Indonesia and Bangladesh, and high-level officials in Malaysia and Turkey have also called for killings or other extrajudicial violence. In a move that has comforted human rights violators everywhere, President Trump has praised Duterte's drug war, twice.
| | |
| --- | --- |
| | |
| | funeral for victim of Duterte's drug war killings |
Other abuses in Duterte's drug war have affected hundreds of thousands, and killings of activists, priests, even mayors are growing as well. Duterte is aggressively attacking his critics and the nation's democratic institutions as he seeks to bring about dictatorship. If he succeeds, there's no knowing where or how far the killings may go.
"There are 3 million drug addicts (in the Philippines). I'd be happy to slaughter them. If Germany had Hitler, the Philippines would have..." [points at himself]
Rodrigo Duterte, September 2016 (source: Reuters)
We at StoptheDrugWar.org ask your help in stopping this drug war tragedy that threatens global human rights.

Our work on the Philippines flows from advocacy at the United Nations since late 2014. As part of a global community of reform-minded NGOs, we call for people-centered approaches to drug policy governed by human rights. Initially this aimed at the April 2016 UN General Assembly Special Session on the World Drug Problem (UNGASS). When Duterte was elected and the Philippine slaughter began, we turned our attention there.
Philippine Vice President Leni Robredo recorded
a powerful video for our March 2017 UN event.
The pro-Duterte forces have noticed us. Duterte allies including the (now former) Speaker of the Philippine House of Representatives have attacked Philippine opposition leaders for working with us. Orchestrated online troll armies have descended on our videos. One of our events even prompted fake news stories.
We are currently crafting plans for moving forward in this campaign in an even bigger way. Please subscribe to our newsletter to make sure you don't miss any announcements about it. If you have a particular interest in the Philippines and want to be in touch about this, please email us.
Our work to date has included the following:
---
Under the auspices of our UN-accredited 501(c)(3) nonprofit, DRCNet Foundation, we organized events in conjunction with the 2017 Commission on Narcotic Drugs (CND) meeting at the UN in Vienna, the 2018 CND meeting, and the 2018 High Level Political Forum on Sustainable Development at UN Headquarters in New York.
TIME magazine did the first posting
of the vice president's video,
embedding it from our YouTube account.
Vienna 2017: Our March 2017 event, coorganized with the Manila-based Council of Asian Liberals and Democrats, drew massive attention in the Philippines, due to a speech by video from Philippines Vice President Leni Robredo that led to unfair attacks on her by Duterte allies and an (ultimately unsuccessful) impeachment drive. The video also garnered US and international coverage. Robredo's video strongly criticized Duterte's drug war, as well as Duterte-led moves in the Philippines Congress (also so far unsuccessful) to reinstate the death penalty, including for drug offenses, and to lower the age of criminal liability to nine.
We released the video on Monday March 13, three days before our event, offering TIME magazine the exclusive first posting. TIME followed up with an interview with Robredo. Along with extensive coverage in Philippine mainstream media, discussion of the video trended on Twitter, and was covered by wire services and outlets throughout Asia and the Gulf.
Unfortunately though not surprisingly, Duterte's forces hit back. The Speaker of the Philippine House of Representatives and the president's Spokesperson both claimed the vice president's office (OVP) must have timed the video's release to coincide with other events that week. They principally pointed to an impeachment complaint a congressman filed against Duterte the day after we released the video, as well as a resolution in the European Parliament calling for the release of Duterte critic Sen. Leila de Lima. They presented this as evidence Robredo was engaged in a "destabilization campaign" against the government.
Robredo's opponents used the
video to attack her politically.
While still in Vienna, we released a statement to media refuting those claims. It documented that UN staff had scheduled side events for the CND nearly two months earlier, and attested that OVP had made no requests of us. (Our event appears on page ten of the 2017 CND side events list; a screenshot of that document's properties page shows it was published on January 23, compared with the event's March 16 date.) Sen. Kiko Pangilinan distributed the statement to the Liberal Party's media list, and we also contacted Philippine media. CNN Philippines, on which the president's spokesperson had first made the false claim about the role of the video, published the most extensive story about our debunking of it. (See news links below.)
coverage of our statement
defending the vice president, CNN
Philippines mobile home page
While our statement helped to defuse the specific charge of a coordinated campaign by the vice president, Duterte's team had ignited a political firestorm over the video which already had its own momentum, and which turned into a campaign to impeach Robredo. At the height of the furor, opportunistic celebrities even held a concert and rally against Robredo. (Their campaign reached the US west coast, when a Filipino American group in Hayward, California held an affinity rally.)
The political heat that Robredo, a human rights lawyer, took for participating in our event is unfortunate. But she has continued to speak out against the killings, and has recently moved again into a forceful opposition role. Recent polling finds the popular vice president becoming even more popular.
News reports on our event, the vice president's video, and its fallout, are too numerous to link here, and media continue to refer to them when discussing the vice president's political trajectory. A recent example is this analysis in the prominent Philippine news outlet Rappler, at the time of this writing ranked as the 12th more read web site in the Philippines. We post here a selection of key news links, as well as links for video footage of our entire event and other resources.
Philippine officials provided the
government's response.
(photo by Joey Tranchina)
Event footage is available online here. Along with the Robredo statement and an Amnesty International video, it includes presentations by Chito Gascon, Chairperson of the Commission on Human Rights of the Philippines; Abhisit Vejjajiva, former Prime Minister of Thailand and current chair of event cosponsor the Council of Asian Liberals and Democrats (video); Lousewies van der Laan, former leader of the Dutch D66 party (Skype); Alison Smith, lead counsel and head of international criminal justice programs at the NGO No Peace Without Justice; Marco Perduca, former Senator from Italy and a member of our board of directors; and a written statement from US Rep. Earl Blumenauer (D-OR). We also have transcripts and a detailed summary.
Co-moderator Marco Perduca, former
senator of Italy, and David Borden
speaking with Amnesty International's
Daniel Joloy, other speakers Alison
Smith (just off screen) and Lousewies
van der Laan (on Skype).
(photo by Joey Tranchina)
Following are some key news article and related links:
The Philippines' largest broadsheet newspaper and 8th most read web site in the country as of this writing, The Inquirer, interviewed our executive director David Borden, as well as fellow event speaker Alison Smith, two weeks after the event. The interview, titled "Group says Duterte, not Robredo, upsetting int'l community," was widely read, shared by Inquirer readers nearly 9,000 times.
A transcript of the video is posted on Vice President Robredo's web site.
Articles covering our statement defending the vice president against the Speaker's false attack:
Articles covering our publishing of the full event footage:
Vienna 2018: A year almost to the day after our 2017 event (and in the same room at the UN), we held another event featuring outspoken opposition Philippine Senator Antonio F. Trillanes IV. (Duterte has said of Trillanes, "I [will] destroy him, or he will destroy me.")
In a sign of the times, the day before our event when Senator Trillanes arrived at the UN, President Duterte transmitted one-year notice of the Philippines withdrawing from the International Criminal Court, in retaliation for the ICC's preliminary investigation of his drug war. The night before our event, prosecutors in the Philippines indicted the senator on a spurious sedition charge.
Tania Ramírez and Natalie Ginsberg
read Senator de Lima's statement.
Alessandro de Luca also pictured.
(photo by Joey Tranchina)
Senator Leila de Lima contributed a written statement to our event as well. Joining Senator Trillanes as featured speaker was Ellecer Carlos, well-known spokesperson for the iDEFEND Philippine human rights coalition. The event was again co-moderated by David Borden and Marco Perduca.
speaker meeting before the forum
(photo by Joey Tranchina)
Roughly 70 people attended, many forced to stand outside the 30-person capacity meeting room. Attendees represented a range of governments, UN agencies, NGOs, and members of the local Filipino community.
While the sedition charge became the main news story, driving out much of the coverage our event might otherwise have gotten, we did get some media including television:

- After Robredo, Trillanes Turn to Blast EJKs in war on drugs, Inquirer article published in advance of our event
- State of the Nation with Jennifer Soho
- Philtizen article noting State of the Nation report (over 9,700 shares on Facebook)
- Trillanes not backing down on sedition case (The Philippines' top news outlet, ABS-CBN, filmed for this report at our event. The sedition indictment, which was issued the night before, became the main story.)
- How many more Filipinos will suffer under Duterte? De Lima asks (Inquirer article -- over 7,700 shares)
- Rights Reporter interview with Senator Trillanes
fake news story with fabricated
statement attributed to us
In another sign of the times, Filipinos working in Vienna attended our event, including both supporters and critics of President Duterte. One member of the "Die Hard Duterte Supporters contingent (DDS -- a play on the infamous "Davao Death Squad" Duterte operated as mayor) challenged Senator Trillanes on the number of killings during the discussion time, while others videorecorded. The pro-Duterte media forces selectively edited the video in order to create an appearance that Trillanes didn't have an answer for him (as the senator and his staff had predicted). An example from a local newspaper in the Philippines appears here. Our Facebook Live video shows that Senator Trillanes did respond, however, and that the encounter was a civil one. The two spoke at length following the event.
Our visit to the UN cafeteria the day before the event led to a series of misleading and fake news stories. A Filipino cashier noticed Senator Trillanes was wearing an NGO badge, rather than one issued by the Philippines' Mission to the UN, and sent a picture to a pro-Duterte blogger. The blogger's post, which misidentified us as a Filipino American NGO, is online here, and has over 7,700 shares. An article posted on two Philippines-focused sites (here and here) "confirmed" that the senator had entered the UN through our auspices.
This information in these pieces isn't fake per se, but they attempt to imply a scandal or problem where there was none. A fake news story followed on the blog post, includes a photo of us on the lunch line with Trillanes, but claims falsely that the senator was "scolded" by a UN security guard who told him to "eat last." A follow-up fake news piece features a fabricated statement attributed to our organization. A third piece by the same writer provided video from our event of a Filipino Duterte supporter contesting Trillanes' information, but implied falsely that the senator fell silent instead of responding to him.
The Facebook Live video stream from this event follows below. We will post an edited playlist copy and transcript in the near future. In the meanwhile, a realtime transcript from the CND Blog can be read here, and individual speeches can be accessed by going to the following points in the video. (We're not able to link to specific times within Facebook videos.)
Statement of Senator Leila de Lima, read by Tania Ramírez and Natalie Lyla Ginsberg (13:38)
David Borden (20:17)
Marco Perduca (21:03)
Senator Antonio Trillanes (26:42)
Ellecer Carlos (27:12)
Discussion (59:20)
New York 2018: On July 16, we hosted the third event in the series, "Human Rights Challenge: Judicial and Extrajudicial Killings in a Time of Authoritarianism," expanding the scope of the discussion to include the death penalty for drug offenses. The event was held at the Church Center of the United Nations, in conjunction with the UN High Level Political Forum on Sustainable Development.
Prominent opposition leader Senator Risa Hontiveros of the Philippines provided a video for our event, calling for international solidarity for human rights and an end to Duterte's drug war. The two hour event also featured Professor Jason Wright of the Washington & Lee Law School, speaking on behalf of the California-based group Death Penalty Focus; and Justine Balane, International Secretary for Akbayan Youth in the Philippines, via Skype.
The largest Philippine news outlet, ABS-CBN, filmed the event, and a report ran on their US station, Balitang America.
Following is the Balitang America's YouTube copy of the TV report:
Following is full video of the event. An edited playlist copy and transcript will be posted in the near future. In the meanwhile, individual sections can be accessed by clicking on the time indications in this list:
---
Protest at Philippines Embassy, Washington, DC
For the one-year mark of the jailing of Duterte critic Senator Leila de Lima on spurious drug charges, we organized a protest at the Philippine Embassy in Washington, DC. The event featured street theater with Duterte and Philippine National Police figures arresting Senator de Lima and pretending to shoot attendees.
Allies in the Philippines helped to promote the event's Facebook Live video stream, and it went viral in the Philippines, with nearly 470,000 views as of this writing. Among our cosponsors in the action were Amnesty International, the Filipino American Human Rights Alliance and the Ecumenical Advocacy Network on the Philippines.
Other Philippines-focused groups such as Gabriela-DC and the International Coalition on Human Rights in the Philippines-US were participated as well. The event represented a step for Philippines-focused groups with various different ideological roots working together. Video of the action went viral in the Philippines, and has garnered nearly 470,000 views. Since that time our executive director, David Borden, has been a go-to person about the drug war for demonstrations organized by Filipino American groups.
Facebook Live video: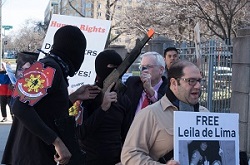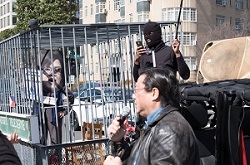 (photos and video done by event cosponsor DCMJ)
---
In the lead up to the November 2017 Summit of the Association of Southeast Asian Nations (ASEAN), which was hosted by Duterte in the Philippines, we organized a global sign-on statement which calls for a UN-led investigation of the drug war killings; for the leaders of ASEAN member states and other world leaders attending to speak up about the issue; and for international aid donor governments to impose human rights conditions on law enforcement assistance to the Philippines, while funding positive programs that could serve as an alternative to the Philippine drug war, and funding the work of human rights advocates.
| | |
| --- | --- |
| | InterAksyon article |
Nearly 300 NGOs and prominent individuals endorsed the statement. Of the 240 NGO endorsers, more than 50 are based in Asia, including a majority of ASEAN member states as well as India, Pakistan and Sri Lanka. There are also several Asia-wide networks devoted to issues such as HIV, transgender and drug user concerns, and youth democracy activism.
Some notable signatories on the document include the National Organization for Women (NOW), Doctors of the World, the Free Legal Assistance Group (FLAG, a nationwide Philippines human rights lawyers group founded during the Marcos dictatorship years), Treatment Communities of America, prominent human rights advocate and actor of MASH fame Mike Farrell, former police chief of Seattle Norm Stamper, and others.
A political component of the statement's outreach efforts, which was in its early stages at the time of the statement's release, secured endorsements from legislators in Canada, Italy, Cambodia, and Washington State, as well as other political and governmental officials from Singapore, Canada and the UK.
The statement was covered by four important Philippines news outlets:
The Interaksyon article credited our coalition with renewing global calls for a UN-led probe into the drug war killings.
---
| | |
| --- | --- |
| | |
| | April 2018 lobbying coalition |
A bipartisan bill in the US Senate, "The Philippine Human Rights Accountability and Counternarcotics Act of 2017," would enact human rights conditions on some law enforcement assistance to the Philippines, based on certifications by the US State Dept., while funding public health programs to address substance issues as well as human rights work. There is similar language in the current version of the Senate Foreign Operations Appropriations bill. We are working with a coalition that includes Filipino American organizations and faith networks, to pass this legislation as part of the upcoming appropriations process, or if not then later during the 2018 session of Congress.
In April 2018, StoptheDrugWar.org's executive director David Borden was invited to join a lobbying group that included advocates visiting from the Philippines as part of the Stop the Killings Speaking Tour 2018 of the Caravan for Peace and Justice for the Philippines, as well as representatives of Filipino American organizations, faith groups participating in the Ecumenical Advocacy Days the weekend before, and others. Key organizers of the lobbying effort were the Ecumenical Advocacy Network on the Philippines and the International Coalition for Human Rights in the Philippines US Chapter. Borden is regularly asked by Filipino American advocates to address the drug war in meetings and demonstrations.
An update and action alert we published is online here, and includes information on what the most key states and congressional districts are. We have a write-to-Congress form supporting S. 1055 online here.
We view this legislation as important not only for its potential impact on the Duterte administration's political cost-benefit analysis on this issue, but also because of the inconsistent approach to the matter taken by the current US administration. While the State Department has raised some concerns about the drug war killings, President Trump has made comments which seem to green-light them.
Specifically, in December 2016 Trump and Duterte spoke on the phone, after which Duterte claimed that Trump praised his drug policies. While Duterte could have made that up, the Trump team never rebutted the claim.
After Trump and Duterte spoke again in April 2017, a statement on the White House web site said they discussed " fighting very hard to rid its country of drugs," with no qualification of that statement to exclude extrajudicial killings from Trump's apparent praise. A transcript of the April conversation leaked to Rappler quotes Trump congratulating Duterte for doing an "'unbelievable job' in the war on drugs."
Finally, Trump was silent about the issue during his appearance at the ASEAN Summit, at least publicly. A White House spokesperson said that Trump and Duterte talked briefly about human rights, but did not elaborate. Duterte has recently claimed that a White House visit is in the works, pending scheduling.
---
As the above sections show, we have actively sought partners in this campaign, both in the Philippines and in the Filipino American community, including groups spanning a range of the ideological spectrum. But we have also sought to bring others in to the effort -- from drug policy reform, international criminal justice advocacy, the anti-death penalty movement and others.
In March before heading to Vienna for our event with Senator Trillanes, we organized a panel for the Students for Sensible Drug Policy conference in Baltimore, "Human Rights Challenge, Responding to extrajudicial killings in the Philippines." Our panel featured Eric Lachica of US Filipinos for Good Governance; and Shamah Bulangis and Justine Balane, National Secretary General and International Secretary respectively of Akbayan Youth, who are also SSDP Ambassadors for the Philippines.
The panel was well attended, and following it, we brought signs from Philippines-related demonstrations (our 2/28 embassy protest and others) to the plenary hall, where conference attendees, following a group picture, took a second group pictures with the signs, while holding hands up in a Philippines protest symbol. The photo, posted to Facebook by an attendee, went viral in the Philippines.
The energy of the event and level of interest in this campaign that was shown there, following our successful protest a week earlier, makes us believe that a larger movement can be built on this issue, capable of bringing greater pressure on the Duterte administration over the killings. Please subscribe to our email list to be updated as plans progress, and feel free to contact us directly in the meanwhile.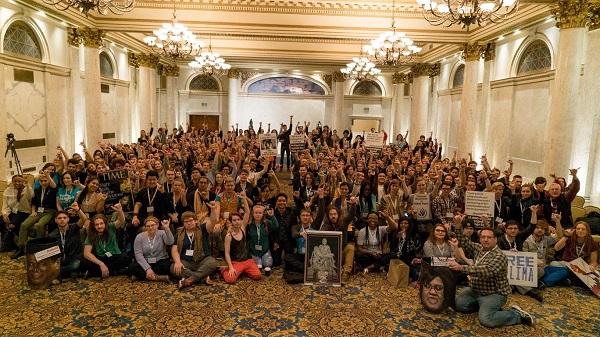 David Borden met with members of the Filipino American Human Rights Alliance San Francisco chapter in July 2018. In this video, filmed by FAHRA leader Ago Pedalizo, Borden remarks on the recent awarding of the prestigious "Prize for Freedom" award to Senator de Lima:
---
These efforts, which continue into 2018, are part of a global drug policy reform program StoptheDrugWar.org has pursued decisively since fall 2014. Much of that involves the United Nations, and our 501(c)(3) US nonprofit organization, DRCNet Foundation Inc., is an accredited NGO in Special Consultative Status with the UN's Economic and Social Council (ECOSOC).
Our international drug policy program is headed by our founder and 24-year executive director, David Borden, who tweets as @stopthedrugwar, and who starting in the near future will tweet on Philippines matters as @BordenUNEventPH. In the near future our organization's blog and newsletter will have a significant focus on the Philippines as well. Our Philippines-related content can also be accessed through our category archive at https://stopthedrugwar.org/philippines.
– END –
Looking for the easiest way to join the anti-drug war movement?
You've found it
!