North Dakota Agriculture Commissioner Roger Johnson Monday signed the first two licenses issued by the state to grow industrial hemp. According to an Agriculture Department press release, the first license was issued to state Rep. David Monson (R-Osnabrock), the assistant majority leader who is also a farmer and strong proponent of industrial hemp. One other license has been issued, and 16 more applications have been submitted by would-be North Dakota hemp farmers.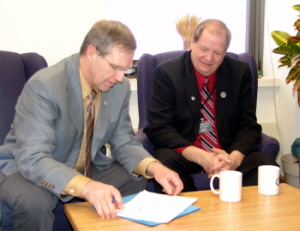 Hemp is the fibrous cousin to marijuana, containing only trace amounts of THC, the primary psychoactive ingredient in pot. Its fibers are used to make clothing and a variety of other goods, ranging from paper to auto-body panels, while its seeds and oils are used in a rapidly increasing number of food products. While hemp products may be sold and consumed in the United States, federal law prohibits growing it here, so American farmers are forced to stand by and watch as imported hemp products cross the border from Canada and come overseas from Europe, where it is legally grown.
"Rep. Monson has been the leader in developing the necessary legislation for North Dakota to legalize production of industrial hemp," Agriculture Commissioner Roger Johnson said Monday. "It is fitting that he has the first license." The second license was granted to Wayne Hauge of Ray. "These two North Dakota producers have met all the requirements, including FBI background checks," Johnson said. "They have invested considerable time, money and effort to meet the letter and spirit of the law."
But although North Dakota has moved to make hemp farming legal, it remains illegal under federal law. Johnson and North Dakota would-be hemp farmers will seek registration from the Drug Enforcement Administration (DEA), but given the agency's hostile attitude toward hemp, that seems unlikely. Just last week, the DEA refused to waive the non-refundable annual $2,293 registration fee, despite Johnson's request that it do so.
While Johnson and the would-be hemp farmers may be going through the motions of seeking DEA approval to lay the basis for a later legal challenge, for now Johnson said he wants to try to reason with the agency.
"The rules require that a state license is not effective until the licensee receives a registration from DEA to import, produce or process industrial hemp," Johnson said. "I will meet with DEA officials about this matter in Washington early next week. I will ask for DEA's cooperation with our state program, and I will ask DEA to implement a reasonable process to allow North Dakota producers to grow industrial hemp."
Johnson said he wants to have a decision from DEA on whether the agency will register farmers to grow industrial hemp, and if registration is forthcoming, what additional restrictions will be placed on growers.
"The controls placed on licensed industrial hemp farmers by North Dakota's laws and regulations include criminal background checks, identification of fields by satellite tracking, minimum acreage requirements, seed certification and mandatory laboratory tests," Johnson said. "The chain of custody for viable hemp seed must be fully documented."