With the November 4 elections now less than two weeks away, most people, drug reformers included, are focused on the near term. Drug reformers in particular are watching with great interest as Michigan voters decide on medical marijuana, Massachusetts voters decide on marijuana decriminalization, and California voters decide whether to approve a groundbreaking treatment-not-jail initiative.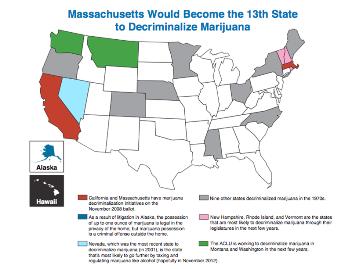 But some are looking past next month's elections and plotting the future of drug reform. Rob Kampia, executive director of the
Marijuana Policy Project
is one of them. At last weekend's
National Organization for the Reform of Marijuana Laws
(NORML) conference in Berkeley, Kampia laid out his vision for the next few years.
But before that, he bluntly predicted success in Massachusetts and Michigan. "We are looking at a pair of major victories on November 4," he told the cheering crowd.
With a dozen medical marijuana states already and Michigan poised to be the breakthrough state in the Midwest, MPP will be aiming at placing medical marijuana initiatives on the ballot in three more states in 2010 -- Ohio, Massachusetts, and Arizona, Kampia said.
He also listed nine states where MPP is working to move medical marijuana forward through the legislative process. In four of them -- Illinois, Minnesota, New Hampshire, and New York -- significant progress has already been made, and MPP will attempt to build on that. In five other states -- Delaware, Iowa, North Carolina, Pennsylvania, and Virginia -- work is just getting started in the legislature.
How successful MPP will be in the near future depends greatly on the outcome of next month's national election, warned MPP communications director Bruce Mirken. "The overarching thing is we will push ahead with as much of this as we can, but it will all be affected by next month's election," he said. "That will either give us a major push or make our lives much more complicated. We're hopeful it will be the former."
But regardless of what happens in November, MPP will also be returning to Nevada in what would be a third bid to actually legalize marijuana possession there. "We will try to file a legalization initiative in Nevada in 2012," Kampia said.
"Nevada is definitely on the agenda," said Mirken. "We've always considered Nevada to be an ongoing project, we got significantly closer on our last attempt, and we're definitely looking at going back."
One clear sign of MPP's intentions in Nevada is their latest hiring announcement. It includes five positions in the state.
MPP isn't the only national reform organization eyeing the future. "We have a lot planned," said Drug Policy Alliance (DPA) executive director Ethan Nadelmann, "but the bigger question right now is what will happen with California's Proposition 5 (related story here). It contains a marijuana decriminalization provision, and if it passes, it will affect a larger number of people than any decrim measure ever."
But while the outcome of Prop. 5 will have an immediate impact, it will also set the course for DPA's future work in the Golden State. "What we do next in California depends on Prop. 5," he said.
Whatever happens in California, DPA will be continuing to work on medical marijuana legislative efforts in three states -- Alabama, Connecticut, and New Jersey -- as well as implementing the hard-won New Mexico medical marijuana law's distribution provisions, and working with local activists in Maine to get a medical marijuana initiative on the ballot there. The Connecticut legislature passed a medical marijuana bill last year, only to see it vetoed by Republican Gov. Jodi Rell. None of the efforts in the other states have gotten that far yet.
"We will go back and push for medical marijuana in Connecticut," said Nadelmann. "But again, it will depend on our ability to get Gov. Rell to be more flexible. Our legislative sponsor in Alabama has said she is prepared to run with it again, and our New Jersey office has lined up a bunch of legislators to support medical marijuana," he added.
Meanwhile, while MPP is eyeing another legalization run in Nevada four years from now, activists in Oregon's fractious cannabis community are preparing a pair of competing initiatives for the 2010 ballot. Oregon NORML is working on the Oregon Tax Act of 2010, which would regulate and tax adult sales, license the cultivation of marijuana for sale in state-run liquor stores and adults-only businesses, allow for adults to grow their own and farmers to grow hemp without a license, and remove taxation from medical marijuana.
While the Tax Act would do away with the Oregon Medical Marijuana Act (OMMA) by rendering it redundant, Voter Power, the group of activists who got OMMA passed a decade ago, have their own initiative in the works. The Voter Power initiative would allow for dispensaries and Patient Resource Centers (PRCs) to sell smokeable marijuana, edibles, tinctures, and lozenges to patients, for growers to legally sell marijuana to dispensaries and PRCs, and for 10% of gross revenues to go back into the Oregon Medial Marijuana Program.
But wait, there's more: According to Kampia, the ACLU is organizing for decriminalization efforts in Montana and Washington, and activists in five additional states -- Kansas, Maryland, Missouri, Tennessee, and Wisconsin -- are working on medical marijuana efforts in their state legislatures.
Right now, all eyes are on November 4, but reforming the drug laws is a work in process, and that process is set to advance in the coming years.