For the second time in less than a year, voters in the Sun Valley town of Hailey, Idaho, have approved a trio of marijuana reform initiatives. A measure legalizing medical marijuana, another legalizing industrial hemp, and a third directing the city to make marijuana law enforcement its lowest policing priority all passed. A fourth initiative that would have directed the city to tax and regulate marijuana distribution failed.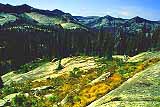 Voters passed the same three initiatives in November, but city officials balked at enforcing them. That stance was strengthened by a December opinion from the Idaho Attorney General's office that the local initiatives conflicted with state law.
But Ryan Davidson, chairman of the Idaho Liberty Lobby, the group that organized both efforts, put the initiatives back on the ballot. Another round of ballot box victories would make it "politically less viable" for local officials to oppose the will of the voters, he told the Idaho Mountain News.
Where things will go from here remains to be seen. The Hailey mayor, a city councilor, and the chief of police sued the city earlier this month over the initiatives in search of a judgment the city can use as a guide for dealing with them.