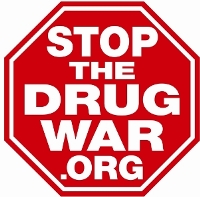 Some northwest reformers were disappointed that Washington's marijuana initiative only legalized industry sales, not home growing by individuals -- some even opposed the initiative for that reason. But Washington may soon add home growing to the legalization regime that I-502 got started.
Marijuana legalization is bringing economic and educational benefits to the people of Pueblo County.
Now there is nowhere left in New England where possession of a small amount of weed will get you arrested and thrown in jail.
The hardcore conservative and former Republican senator is going to be a paid marijuana lobbyist.
The 2017 International Drug Policy Reform Conference is the major biannual gathering of drug policy reformers from around the world.
A white-haired conservative Mormon Republican senator from Utah files a medical marijuana research bill, the Arizona Supreme Court tells recalcitrant local officials they can't hide behind federal law to mess with the the state's medical marijuana law, and more.
A Louisiana cop gets nailed for having sex and peddling dope on the job, a sticky-fingered Pennsyvlania cop gets nailed for stealing drug money, a South Carolina cop gets nailed -- nine years after the fact -- for lying on a drug search warrant, and more.
The only legal marijuana state that doesn't allow personal cultivation will revisit the issue, the president chides Colombia and Colombia reacts, there's strong support for pot legalization in New Jersey, and more.
Bostonians celebrate marijuana legalization, California calls for its rescheduling, state attorneys general urge health insurers to reduce opioid prescriptions, Maxine Waters files a bill to end mandatory minimums for drug sentences, and more.
The California safe injection bill came up two votes short of passing this year, Toronto authorities ignore the pleas of pot lounge operators for a place under legalization, Virginia's Democratic attorney general comes out with a plan to fight opioid overdoses, and more.
The Bay State's highest court just made it harder for cops to charge people with pot-impaired driving, Las Vegas-area county commissioners put a stop to talk of pot lounges anytime soon, Colombia's president speaks out against the drug war (again) at the United Nations, and more.
Permission to Reprint:
This issue of Drug War Chronicle is licensed under a modified
Creative Commons Attribution license
. Articles of a purely educational nature in Drug War Chronicle appear courtesy of DRCNet Foundation, unless otherwise noted.