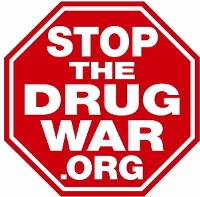 A bid to get a bill passed this year has gone down to defeat, but next year is looking promising.
The cop who killed Philando Castile was especially frightened because Castile smoked marijuana.
What a shocker! Give cops less legal reason to do searches and you get fewer searches.
It took nearly a year for damning video to emerge, but now the heat is on.
An initiative campaign is getting underway in Utah, Florida's governor signs medical marijuana implementation into law, and more.
Deputies disgrace themselves and more.
The Massachusetts House and Senate have different ideas about how to implement marijuana legalization, a new poll finds a strong majority of Americans want Trump to butt out of legal marijuana states, Wisconsin Gov. Rick Walker's Medicaid drug testing plan has virtually no public support, and more.
After marijuana legalization comes up short this year, Vermont and Rhode Island will both have study commissions to examine the issue, Nevada's governor finds a way to get recreational sales going next week, Cuba says no to legal weed, and more.
Florida's medical marijuana regulatory system is now set, the conservative Koch network has some issues with Trump drug war policies, Support Don't Punish marches are going on worldwide, there's something rotten in the Florida drug treatment complex, and more.
Massachusetts lawmakers are slugging it out over what legalization will look like this week, Bolivia's president acknowledges and decries the diversion of coca to the black market, and more.
Utah's new medical marijuana initiative is exposing fissures between the LDS leadership and membership, an asset forfeiture reform bill sits on the desk of Illinois' governor, a bipartisan House heroin task force releases its proposals, and more.
Permission to Reprint:
This issue of Drug War Chronicle is licensed under a modified
Creative Commons Attribution license
. Articles of a purely educational nature in Drug War Chronicle appear courtesy of DRCNet Foundation, unless otherwise noted.