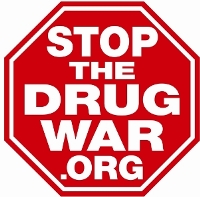 The number of people living in marijuana-legal states could triple on November 9.
The federal courts remind the Justice Department that Congress passed a law barring it from using federal funds to go after state-legal medical marijuana operations, Maryland takes a step toward getting its industry up and running, California balks at a medical marijuana grower tax, and more.
A North Carolina detective had a thing for "nudish fetish catfights," a Pennsylvania state trooper had a snitch scoring coke for him, an Oregon crime lab tech had a bad case of sticky fingers, and more.
The DEA's refusal to reschedule marijuana yesterday elicits reactions from Hillary Clinton and DC activists, a California bill to tax medical marijuana farmers dies in committee, Secretary of State Kerry gets a letter from Congress urging him to prioritize human rights when it comes to financing Mexico's drug war, and more.
Look for marijuana legalization ads coming to Las Vegas, South Dakota continues to go after marijuana industry consultants, thousands march for pot legalization in Berlin, and more.
California is moving to reform its civil asset forfeiture system, a federal court has told the Justice Department it can't spend funds to prosecute state-compliant medical marijuana businesses, and more.
The marijuana legalization campaigns are starting to heat up, a new California poll has the strongest support yet for legalization, and more.
Permission to Reprint:
This issue of Drug War Chronicle is licensed under a modified
Creative Commons Attribution license
. Articles of a purely educational nature in Drug War Chronicle appear courtesy of DRCNet Foundation, unless otherwise noted.