Look for marijuana legalization ads coming to Las Vegas, South Dakota continues to go after marijuana industry consultants, thousands march for pot legalization in Berlin, and more.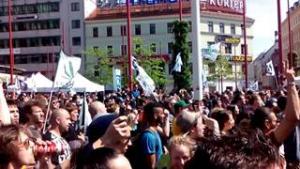 Marijuana Policy
Nevada Legalization Campaign Prepares $800,000 Ad Buy. The Campaign to Regulate Marijuana Like Alcohol in Nevada has reserved more than $800,000 worth of advertising time slots with major news stations in Las Vegas, where three-quarters of the state's population is. The campaign supports the Question 2 legalization initiative on the November ballot. The ads will run beginning in early October and go through Election Day.
Northern Marianas Legalization Initiative Won't Be on the Ballot. A bill that would have led to a popular vote on marijuana legalization has died in the Commonwealth of the Northern Marianas Islands (CNMI) legislature. Senator Sixto Igi-somar wanted the legislature of the US territory to move on the bill for a popular referendum, but the legislature was "too busy," he said.
South Dakota Indian Tribe Marijuana Consultant Pleads Guilty to Pot Charge. A consultant who worked with the Flandreau Santee Sioux Tribe to establish a marijuana resort after the federal government said Indian tribes were free to do pleaded guilty Monday to a state marijuana charge for receiving marijuana seeds sent from Amsterdam to start the tribe's crop. The tribe tore down the crop over fears the federal government spoke with forked tongue and over threats from the state government, which followed through by indicting two consultants. Consultant Jonathan Hunt is the one who pleaded guilty and agreed to cooperate; consultant Eric Hagen pleaded not guilty, and his lawyer says there is no evidence he ever possessed "even a gram of marijuana."
Denver Cannabis Club Initiative Campaign Hands in Signatures. The Neighborhood-Supported Cannabis Consumption Committee has turned in more than 10,000 signatures for a municipal initiative that would allow for cannabis clubs where people can consume on-site. They only need 4,726 valid voter signatures to qualify for the November ballot.
International
Thousand March for Marijuana Legalization in Berlin. An estimated 5,000 people took to the streets of the German capitol Saturday to call for freeing the weed. It was the 20th annual Hanfparade (hemp parade), and in this one, demonstrators marched under the banner "legalization is in the air." Marijuana is illegal in Germany though possession of small amounts is tolerated by police, and a few hundred people have been given allowances to use it for medical purposes.
New Zealand Poll Shows Strong Support for Marijuana Reforms. A poll commissioned by the New Zealand Drug Foundation finds that nearly two-third of Kiwis want marijuana either decriminalized or legalized. One-third (33%) said legalize it, while 31% said decriminalize it. More than half (52%) said there should also be provisions for people to grow the plant themselves.
Cayman Islands Will Move Forward on Allowing CBD Cannabis Oils. Premier Alden McLaughlin said his government will push through laws to allow the importation and dispensing of CBD cannabis oils, but he warned there are no guarantees patients in the island nation will be able to obtain it. "There are still real and serious practical hurdles to obtaining and importing this drug because it remains illegal in many jurisdictions, including nearby Jamaica," he said.