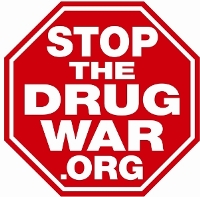 Once again, the DEA refuses to quit treating marijuana like heroin.
The DEA has again refused to reschedule marijuana. Here's why it's not a big surprise nor that devastating.
The DEA again rejects marijuana rescheduling, a North Dakota initiative makes the ballot, a South Dakota one doesn't, a Missouri one hangs on by a thread, and more.
A former Virginia police chief goes down for using the drug buy fund to buy pills for himself, a former Guamanian customs agent goes down for helping a relative import meth, and a former New Jersey police sergeant goes down for peddling weed on the side.
Young people are the most likely to say they are regular users; churchgoers the least likely.
A Gallup poll shows a dramatic increase in admitted marijuana use by adults, a Barna poll shows little support for drug prohibition, Garden State needle exchanges are scrambling for money after their funding was vetoed, and more.
Marijuana arrest numbers are headed in the wrong direction in New York City, Ohio makes a first move toward implementing medical marijuana, New York Sen. Chuck Schumer declares war on new psychoactive substances, and more.
It grows quiet in the dog days of summer, but there is still some news: North Dakotans will vote on medical marijuana in November, California legalization foes sue over ballot argument language, and more.
The DEA is up to the same old same old, Arizona joins the list of states voting on marijuana legalization this fall, heroin overdoses jump in recent years in New York, and more.
Permission to Reprint:
This issue of Drug War Chronicle is licensed under a modified
Creative Commons Attribution license
. Articles of a purely educational nature in Drug War Chronicle appear courtesy of DRCNet Foundation, unless otherwise noted.