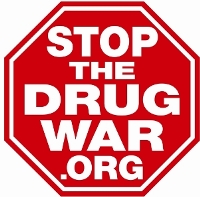 What is arguably the most comprehensive attempt to roll back drug war sentencing excesses rolled out yesterday in Washington.
Finally, the big one drops.
Illinois' first medical marijuana crop comes in, Washington adopts emergency rules for medical marijuana as it merges with the recreational marijuana system, an Ohio initiative still can't get approved, and more.
One man is dead after aiming a "finger gun" at a cop, another after aiming a stapler, and we're up to 46 drug war deaths for the year.
Oregon dispensaries can now sell marijuana to all comers (21 and over) starting today, a bipartisan group of senators announce a deal on major sentencing reform, Albuquerque's mayor vetoes decrim again, heroin policy on the campaign trail is featured, and more.
There are signs of dissension around the ReformCA legalization initiative, Oklahoma medical marijuana supporters are searching for signatures, a federal bill to require police to report lethal force incidents is introduced, and more.
Attorney General Loretta Lynch is following the same path on marijuana states as her predecessor, the big California legalization initiative rolls out, Uruguay grants licenses to commercially grow marijuana, there will be no cannabis sales in Berlin (at least for now), and more.
Major sentencing news today; early voting started today in Ohio, where pot legalization is on the ballot, a North Carolina hemp bill has gone to the governor, Colombia will still spray a nasty herbicide on coca crops, and more.
Toledo's decriminalization is challenged, Florida officials face heat for delays in implementing the state's CBD medical marijuana law, an Illinois panel approves medical marijuana for pain conditions (but will the governor go for it?), and more.
Permission to Reprint:
This issue of Drug War Chronicle is licensed under a modified
Creative Commons Attribution license
. Articles of a purely educational nature in Drug War Chronicle appear courtesy of DRCNet Foundation, unless otherwise noted.