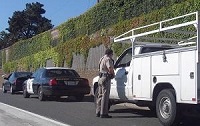 You would think that, as legalization and decriminalization spread, the number of marijuana arrests would be going down. You would be wrong.
The California Coalition for Cannabis Policy Reform is finally going to submit initiative language to state officials, and they have the resources to make it happen.
Decriminalization makes a difference in more ways than one.
Last week's reservation raid in California reverberates, dispensaries move a step closer in Maryland, a medical marijuana bill advances in South Carolina, and more.
A criminal gang of Puerto Rican cops gets indicted, prison guards run wild all over the country, and more cops get in trouble for stealing dope and cash.
An increasing majority supports marijuana legalization in Vermont, a second Wisconsin Indian tribe moves toward allowing marijuana, a major national drugstore chain makes naloxone available over the counter, and more.
The issue of cannabis social clubs is bubbling up in Alaska and Colorado, a second Massachusetts legalization initiative gets ready to collect signatures, Oklahomans really don't like asset forfeiture, and more.
The pope criticized the drug war at the UN, the president addresses overdoses and addiction in his weekly address, marijuana arrests jumped last year, a campaign to bring safe injection sites to New York City is launching, and more.
Half of Oregon's dispensaries will start selling marijuana to any adult beginning this week, the FDA fires back at critics of its pediatric prescribing rules for Oxycontin, a high UN official lists the ways the drug "problem" impacts human rights, and more.
Puerto Rico decriminalizes, polls in Texas and Canada show strong majorities for marijuana law reform, Ohio and Michigan are moving on asset forfeiture reform, DEA agents flunk drug tests with few consequences, and more.
Permission to Reprint:
This issue of Drug War Chronicle is licensed under a modified
Creative Commons Attribution license
. Articles of a purely educational nature in Drug War Chronicle appear courtesy of DRCNet Foundation, unless otherwise noted.