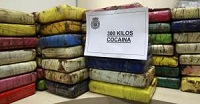 Illinois's Republican governor has vetoed an comprehensive heroin bill because he doesn't want Medicaid to have to pay for treatment. But there appear to be enough votes to override the veto.
California still has some problems with the feds, dispensaries open in Nevada and get licensed in Illinois, an Oklahoma initiative campaign is gearing up, and more.
More jail guards in trouble, a DEA agent gets popped for child porn, and a Mississippi cop gets fired after getting caught in a major marijuana deal.
Asset forfeiture reform is moving in Michigan, Texas is about to end its ban on food stamps for drug felons, Brazil's high court takes up a case that could lead to drug decriminalization, the Teamsters and other labor groups pan hair drug testing, and more.
A Wisconsin tribe moves toward legal marijuana, Oakland's effort to back the Harborside dispensary gets shot down in federal court, Peru wants to shoot down drug planes, both major Kentucky governor candidates want to drug test welfare recipients, and more.
Pot isn't stinky enough for its odor to automatically qualify as disorderly conduct in Oregon, Colorado patients sue over the state's decision not to include PTSD in the medical marijuana program, Oklahomans will try again to get a medical marijuana initiative on the ballot, and more.
Another South Florida community moves toward marijuana decrimin, GOP primary state voters want the feds to stay out of state marijuana policies, DC's top prosecutor hints at drug decriminalization, Illinois's governor vetoes Medicaid heroin treatment funding, and more.
We're still waiting for the big one to drop in California, Ohio officials don't play nice with initiative ballot title language, Illinois gets its first dispensary approved, NYC wants to ban "fake weed,' and more.
Permission to Reprint:
This issue of Drug War Chronicle is licensed under a modified
Creative Commons Attribution license
. Articles of a purely educational nature in Drug War Chronicle appear courtesy of DRCNet Foundation, unless otherwise noted.