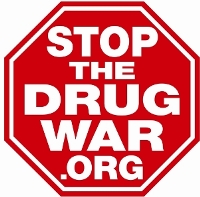 Medical marijuana got attention on the national stage this past week, medical marijuana for PTSD sufferers was at issue in two states, Florida looks poised to pass a medical marijuana initiative next time around, and more.
People continue to die in the drug war at a rate of more than one a week so far this year.
Getting caught with even a little bit of marijuana could send a parolee back to prison. This was one parolee was wasn't ready to go back.
We have a Philadelphia twofer this week, an Indiana cop who killed himself after getting busted stealing pain pills, an Oklahoma K9 cop popped for stealing dope, another jail guard in trouble, and more.
All eyes are turning to 2016 when it comes to marijuana reform, PTSD gets second-class status under Arizona's medical marijuana law, and more.
It's the dog days of summer, and it looks like not much is going on except marijuana-related issues. Will ResponsibleOhio make the ballot, will the Justice Department ease up on medical marijuana where it's legal? Stay tuned.
Rand Paul benefits from MPP's largesse, California tax officials eye a pot bank, medical marijuana is okayed for autistic kids in Michigan, Canada moves to ban salvia, Brits hold a laughing protest over a proposed legal highs ban, and more.
GOP presidential contenders talk pot, drug overdose deaths at an LA music festival and an Italian nightclub excite controversy over how to respond, and more.
Competing legalization initiatives get filed in Massachusetts, pain patients face obstacles amidst the pill mill crackdown, the Yemen war is messing up the peninsular drug trade, and more.
Permission to Reprint:
This issue of Drug War Chronicle is licensed under a modified
Creative Commons Attribution license
. Articles of a purely educational nature in Drug War Chronicle appear courtesy of DRCNet Foundation, unless otherwise noted.