Competing legalization initiatives get filed in Massachusetts, pain patients face obstacles amidst the pill mill crackdown, the Yemen war is messing up the peninsular drug trade, and more.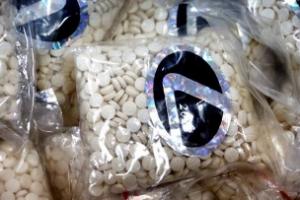 Marijuana Policy
Two Competing Groups Filed Massachusetts Legalization Initiatives. Both the Marijuana Policy Project-backed Campaign to Regulate Marijuana Like Alcohol in Massachusetts and the local group Bay State Repeal today filed initiatives to legalize marijuana in the state. Bay State Repeal actually filed three versions of its initiative. Click on the organization link to get details on the various proposals.
Medical Marijuana
Leaked Document Shows DOJ Misled Congress on Impact of Medical Marijuana Amendment. In the days before Congress voted to approve an amendment limiting the Justice Department's ability to interfere in medical marijuana states, an internal memo obtained by Tom Angell at Marijuana.com shows that the department tried to mislead Congress by falsely claiming that the amendment could "in effect, limit or possibly eliminate the Department's ability to enforce federal law in recreational marijuana cases as well," according to the document. [Emphasis added.] The memo admits that the DOJ talking points were "intended to discourage passage of the rider," but "do not reflect our current thinking." Click on the link for more.
Under-treatment of Pain
Pill Mill Crackdown Hurting Pain Patients. New Hampshire Public Radio has done a lengthy report on the impact of the pain pill crackdown on pain patients. One patient who moved to Florida reports that his pharmacy runs out of pain medications, and the pharmacy owner reported that pharmaceutical wholesalers will no longer distribute the amount of drugs he needs to serve his clients. There's much more there, too; click the link to read the whole thing.
International
Yemen War Messing Up Arabian Peninsula Drug Traffic. Saudi Arabia's four-month bombing campaign against Houthi rebels is not only killing hundreds, perhaps thousands, of Yemenis, it's also choking off the supply of Middle Eastern amphetamines and hashish that have been being trafficked across the Yemen-Saudi border. Saudi border guards say the war has shut down trafficking, while Riyadh residents complain that supplies are drying up. The article also provides an overview of drug use in the region; click on the link to get it all.