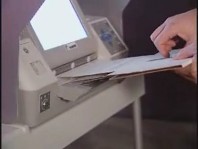 It's much easier to do bad things to -- or fail to do good things for -- people we have stigmatized as somehow lesser than the rest of us. The Denver-based Harm Reduction Action Center is taking on the stigmatization of drug users. That's a good thing.
It's now less than two weeks to Election Day, things are looking pretty good for those statewide marijuana legalization and medical marijuana initiatives, but they could still use your help. Find out what you can do.
There's a national "vote medical marijuana" campaign, Colorado won't ban edibles, the Florida initiative appears to be in trouble, Massachusetts patients can start registering, and more.
A deputy US marshal goes gangster, more prison and jail guards get in trouble, and another pain pill-peddling police officer goes to prison. Just another week in the drug war.
Polls have the Oregon initiative up, but the Florida initiative down; a marijuana march in New Jersey takes place on Saturday, Obama nominates a drug reformer to a key Justice Dept. position, a Dutch court sticks a thumb in the government's eye, and more.
Oregon moms take stands on Measure 91, a new Delaware poll has healthy support for legalization, say goodbye to most of San Jose's dispensaries, there's an asset forfeiture reform bill in Virginia, and more.
New pot polls in New Hampshire and North Dakota, Philly decrim goes into effect, NYC marijuana arrests continue, Nevada senator wants heroin clinics, Massachusetts chief justice slams mandatory minimums, Facebook sends a stern letter to DEA, mayhem continues in Mexico, and more.
Holder talks pot, more big bucks flow to Oregon initiative, federal judge to ponder whether marijuana belongs in Schedule I, the right attacks Vanita Gupta, Canada's NDP calls for decriminalization, and more.
Texas will see marijuana reform legislation next year, "Brownie Mary" Democratic Clubs come to California's East Bay, Utah will consider drug defelonization, Afghan poppy fiasco, and more.
Permission to Reprint:
This issue of Drug War Chronicle is licensed under a modified
Creative Commons Attribution license
. Articles of a purely educational nature in Drug War Chronicle appear courtesy of DRCNet Foundation, unless otherwise noted.