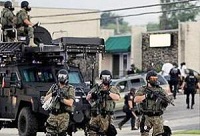 With concern over police militarization running rampant in the wake of the Ferguson, Missouri, protests, a pair of congressmen have filed a bill that would begin to rein in the use of military equipment by police.
Our first-ever medical marijuana update with no news from California. But there are things going in places that are not the usual suspects -- a sign of changing times, indeed.
A 19-year-old Oklahoma City woman was shot and killed by police as she fled in her car from a drug bust, and her boyfriend, who was apparently doing the drug deal, now faces murder charges in her death.
More cops with pill problems, more jail and prison guards in trouble for drug smuggling and selling. Just another week on the drug war corruption front.
A federal CBD medical marijuana bill picks up more sponsors, so does a federal asset forfeiture reform bill, Georgia advocates whole whole plant medical marijuana, Mexico's first coca patch is busted, Saudi Arabia beheads another drug offender, and more.
With Congress back in session, bills are getting some attention, Roger Christie walks out of prison, the PA Senate will take up medical marijuana next week, smoke-in in Bogota, and more.
The Washington Post just says no to the DC marijuana initiative, the Oregon initiative sees a lively debate, the Madison, WI, police chief says legalize it, another drug war death, West Virginia pain patients are getting screened by narcs--and paying for the privilege! -- and more.
Congress is back and bills are picking up cosponsors, Guam will vote on medical marijuana, Wyoming moves toward ending civil asset forfeiture reform, the president names drug producing and transit countries (again), and more.
Organized opposition has arrived in DC, MPP launches a "Consume Responsibly" campaign, polls suggest a tough fight for the Florida medical marijuana initiative, New Jersey solons roll out a package of bills aimed at opiate use, and more.
Permission to Reprint:
This issue of Drug War Chronicle is licensed under a modified
Creative Commons Attribution license
. Articles of a purely educational nature in Drug War Chronicle appear courtesy of DRCNet Foundation, unless otherwise noted.