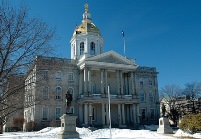 As attitudes in America begin to shift in favor of marijuana legalization, it increasingly seems possible that more states -- and eventually the entire country -- might follow. What does this mean south of the border, where Mexican cartels make enormous profits by trafficking this illegal commodity?
A marijuana legalization bill has passed the New Hampshire House, but not with enough votes to overcome a promised gubernatorial veto. It still faces more votes in the House and Senate, too.
Alaska marijuana legalization initiative campaigners have handed in 50% more signatures than needed to qualify for the ballot. It's not a done deal yet -- the signatures must be verified by state officials -- but it's looking like Alaska could be the next state to free the weed.
The Washington, DC, city council has advanced a decriminalization bill with a unanimous committee vote. It now heads for the full council.
Action is really picking up as state legislatures get back into session. Meanwhile, the long battle over regulating medical marijuana in California continues.
This week, we have a trio of jail guards gone bad, as well as another cop with a pain pill problem and sticky fingers. That's a bad combination.
Alaska appears poised to vote on marijuana legalization, New York's governor announces a half-step toward medical marijuana, the ACLU fights for our rights on a couple of fronts, and trouble could be coming to the coca fields of Peru. And more.
The marijuana issue continues hot and heavy, one of our favorite authors is nominated for an award, harm reduction bills move in Wisconsin, and the US Sentencing Commission wants to cut drug sentences. And more.
Marijuana legalization is one step closer in the nation's capital, even Georgia Republican legislators are getting on the medical marijuana bandwagon, Syria's civil war is being fueled by speed, and more.
Lots of activity on the marijuana and medical marijuana fronts today, and an academic study casts doubt on the utility of student drug testing.
As the legislative season gets underway, bills are being introduced all over the place -- good, bad, and ugly. And there's trouble in Mexico, there are peace talks in Colombia, and more.
Permission to Reprint:
This issue of Drug War Chronicle is licensed under a modified
Creative Commons Attribution license
. Articles of a purely educational nature in Drug War Chronicle appear courtesy of DRCNet Foundation, unless otherwise noted.